Denver Diggers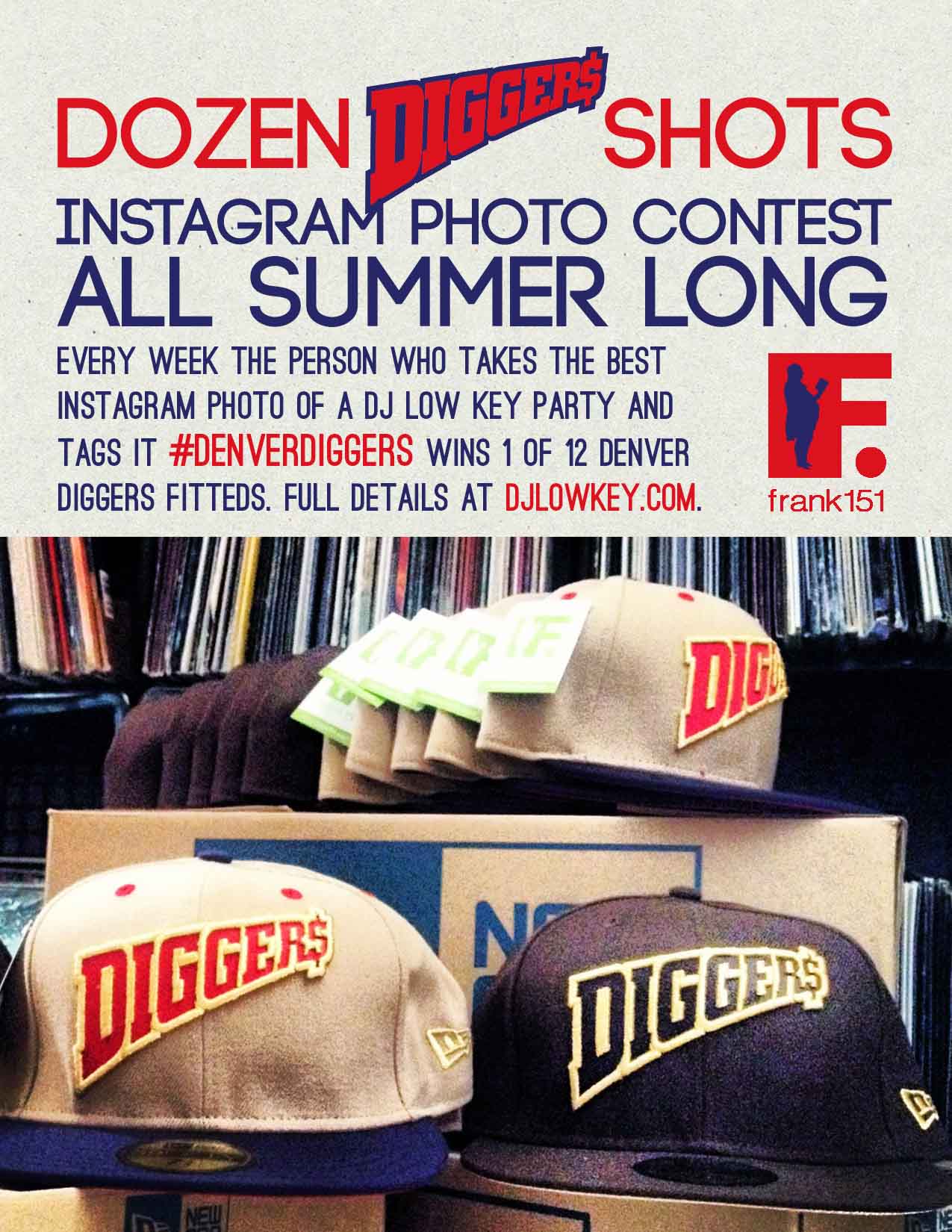 Summer is officially ballcap season and to celebrate me and Frank151 are giving away a dozen super fresh Denver Diggers New Era fitteds.  Every week we'll be giving away a Diggers fitted to the person who takes the best Instagram photo of a DJ Low Key party (whether it's Goodness, The Solution, Fifty/50, The Solution Showcase or a one-off).  I'll be periodically posting up the winners' names here after checking the hashtag #DenverDiggers every Monday (P.S. your Instagram stream must be public for your contest entry to be seen).
So come out and snap a flick, fix it up nice and proper in Instagram then add the #DenverDiggers hashtag for your chance to win. If you don't already have it, get Instagram for your mobile phone for free here and good luck!
Week 1 Winner: Ginger Westhoff
FRIDAY, 2/26 ->  We're finally dropping the Solution Tape #1, hosted by our good friends U-N-I & Ro Blvd, just in time to celebrate our final night at the Funky Buddha.  We've held down the Funky Buddha's rooftop for the last 2+ years and while our time there has been awesome, it's time for us to move on to a bigger and better spot, where we can take the Solution to the next level.  With that said, we're looking forward to our new home, a few blocks away at Bar Standard (1037 Broadway). Bar Standard has a stage, great sound system, impressive lighting, a recently renovated interior, two AMAZING rooftop decks for summer and all sorts of other useful features that we plan to make the most of (starting with our 4th annual J Dilla tribute on 3/5).
But anyways, back to the party on 2/26.  You know the music's gonna be on point, we'll be giving copies of DJ Low Key & Sounds Supreme – The Solution Tape #1 (hosted by U-N-I & Ro Blvd) to the first 100 people, we've got clothing giveaways from Akomplice and two lucky Solution fans are gonna win a dope new Denver Diggers fitted, courtesy of Frank151 (find out how to win in the post below).  Don't miss your chance to witness the end of this chapter of the Solution!!!  No cover / 21+ / Music at 9.
The homies over at Frank151 blessed us with two of the dope new Denver Diggers fitteds to giveaway.  We're gonna be giving one away via a lucky ticket, hidden in a copy of DJ Low Key & Sounds Supreme – The Solution Tape #1, which we'll be giving away at our last night at the Funky Buddha on 2/26 (after that we'll be moving the Solution to Bar Standard, starting with our 4th Annual J Dilla Tribute on 3/5).  That same day, we're gonna draw a name out of the comments to pick the winner of the second one (winner must be able to pick up the prize at the event), so don't be shy about commenting on what we post for your chance to win one of these super fresh fitteds.
Join The Solution newsletter for details on upcoming events, free music, party photos, video & lots more!!!
The Solution x Spotify Weekly Playlists…
Add us on Facebook…
Get more familiar with The Solution w/DJ Low Key & Lazy Eyez…
Categories