Updates
.:RSVP for FREE admission HERE:.
THURSDAY, 3/5 -> Last year, I had the honor of curating three Red Bull Sound Select shows in Denver, bringing out the legendary Bun B for a long overdue Denver debut, prodigious rapper Vic Mensa & Leather Chords for their first CO gigs and musical genius Exile and his Dirty Science crew, as well as featuring some of my all-time favorite Colorado artists & more. Now it's 2015 and I'm super excited my first RBSS show of the new year; Tokimonsta, Anderson .Paak & The Free Nationals, CRL CRRLL, Fast4ward & host Lazy Eyez at Larimer Lounge!!! While I'm a hip hop dude first and foremost, anyone who's seen me DJ knows that my taste in music goes a lot deeper and this show is a great example, filled with incredible artists that have hip hop roots/elements/etc in their music, but make experimental music that doesn't really fit into a box, in the best way possible.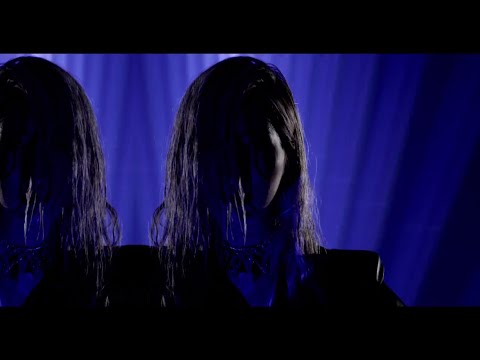 If you're not familiar, Tokimonsta's an INSANE producer/DJ from Los Angeles who debuted on Flying Lotus's Brainfeeder label after blowing cats away at RBMA years prior. Her "2 On" remix was probably the single best remix I heard in 2014 and her latest EP, Desiderium, stays in heavy rotation. The first single from Desiderium is called "Realla" & features the show's other out of town guest, the unbelievably talented Anderson .Paak.
Formerly known as Breezy Lovejoy, Anderson .Paak put out both mine & Lazy Eyez's favorite album of 2014, his stunning debut Venice. Soulfully drawing from a variety musical styles, Anderson's music includes elements of R&B, rock, funk, house & more, but comes together for a sound that only he seems to be able to pull off. He'll be rocking with his band The Free Nationals and based off of everything I've heard and the music, their live show is one of the best in music right now. Anderson also just dropped the first single from his upcoming collaboration No Worries project with Knxwledge on Stones Throw, check it below.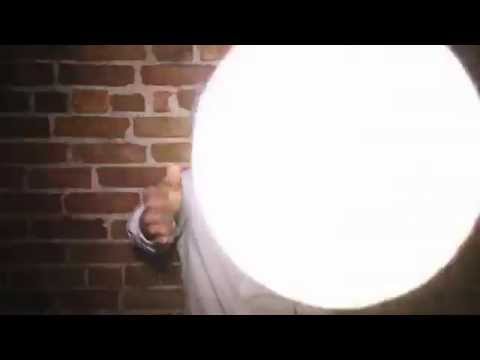 Multi-talented, experimental singer/songwriter/producer CRL CRRLL's sound is also hard to box in, covering everything from soulful dance tracks, emotive downtempo joints to sophisticated pop anthems with ease. Fast4ward rounds out the bill with his own, one-of-a-kind skills, combining everything from turntables and beatboxing to piccolos and live guitars to create one of the most entertaining live shows I've ever seen. Him and CRL CRRLL will be performing their own music, but they've also been collaborating in the studio and have a few surprises in store for us, so make sure to come out early to see what they have in store.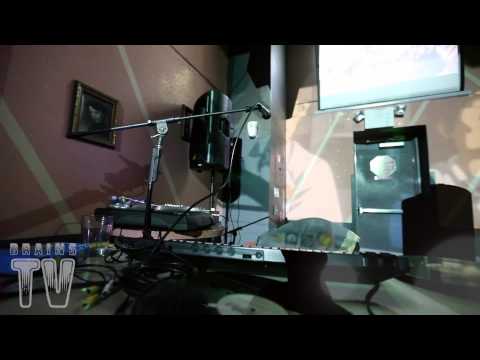 Things get started at 8pm sharp and with a super dope lineup, pretty small venue and Tokimonsta headlining, the show should fill up early, so I'd highly recommend getting there early. As if the stacked bill wasn't enough, you can RSVP at RedBullSoundSelect.com for $3 entry (that's right, only $3!!! Less than $1 per musical genius on-stage! It's first come, first serve though, so get there early) and also get access to some great music, videos and more online. Otherwise, it's still quite a deal at the $15 walk up price, just make sure you show up early, because being ready to pay a $15 cover does you no good at a sold out show. 18+/8pm/2712 Larimer Street.
.:RSVP for FREE admission HERE:.
P.S. Stay tuned for more great monthly Red Bull Sound Select shows and new music in Denver, curated by myself, Souls In Action & The UMS, all year long (plus more shows all over the country)!!!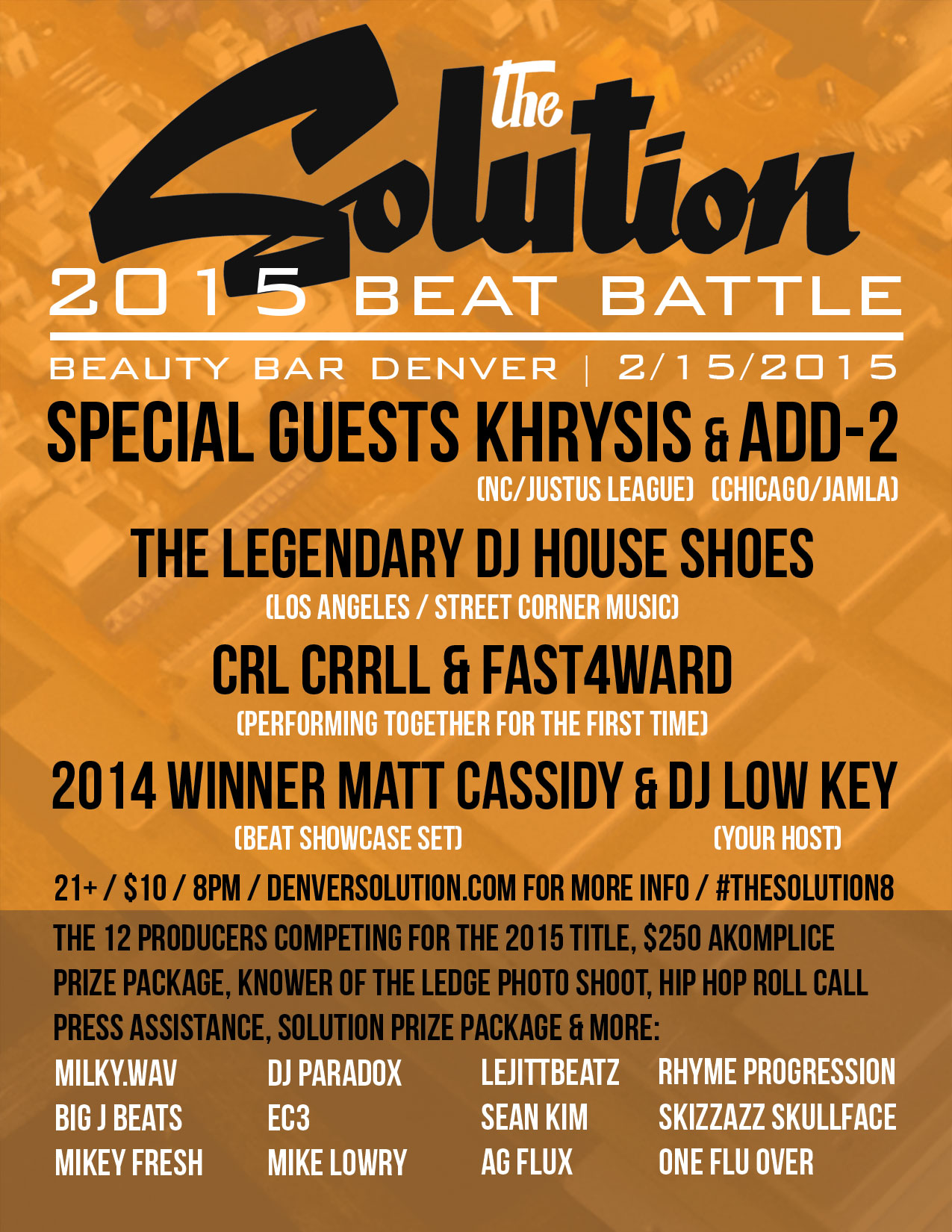 SUNDAY, 2/15 at 8pm -> The Solution Beat Battle is back for our 4th annual production competition! Here are the 12 (mainly) Denver-based producers/beatmakers/musicians involved:
Rhyme Progression
Lejittbeatz
AG Flux
Skizzazz Skullface
Sean Kim
One Flu Over
Milky.WAV
Big J Beats
Mikey Fresh
DJ Paradox
EC3
Mike Lowry
Prizes include a $250 Akomplice prize package, photo shoot with Armando Geneyro, a Solution/Goodness prize package, press assistance from Hip Hop Roll Call  & more, check out previous Solution Beat Battles for more info. 21+ / $10 / Doors at 8pm.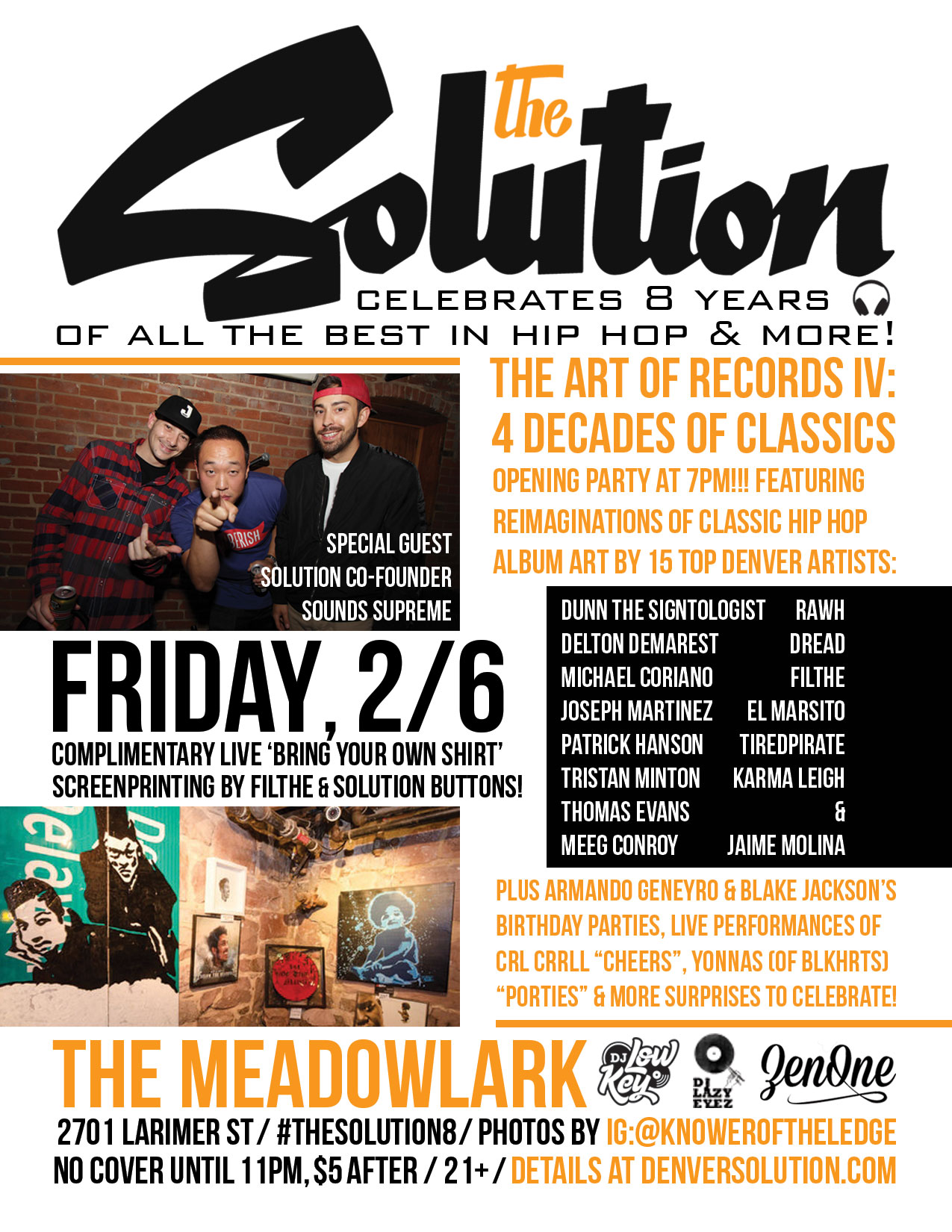 FRIDAY, 2/6 at 7pm -> 8 years. Wow. Seems like just yesterday that me & Sounds Supreme started The Solution with no grand plans, just an idea to make the kind of party we wanted to go to and have doing it. At the time, we didn't know quite what that was, but we knew we were tired of playing the same top 40 records for whatever crowd happened to walk into the club/bar that offered us the most money on a Friday night. The Solution wasn't the first time either of us tried to start our own party, but somehow we were able to use everything we had learned from previous attempts to promote our own events, combine that with a large amount of youthful determination and somehow get the party of to a good enough start to ride through the initial struggle that starting anything different and unique can be.
Over the last 8 years, we've bounced around venues, Sounds Supreme fell back from weekly duties and Lazy Eyez joined the party, we added our official photographer Knower Of The Ledge, we've thrown a bunch of offshoot events and done of lot of pretty damn cool stuff, that frankly, I wouldn't have ever considered a possibility when our little party started. All the changes and particularly the success we've had since partnering up with The Meadowlark (who we can't praise enough) have us hungrier than ever and excited about how far we can take the party. That's led us to film a video for CRL CRRLL's "Cheers", launch a small Solution Records label to release music we believe in and constantly strive to upgrade everything we can about the party. Hopefully you'll dig some of the new projects we work on as we try to figure out what exactly the next level is and take the party there.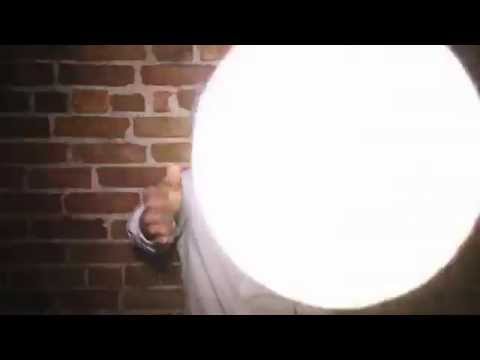 If you follow us or come out regularly, I'm sure you've noticed that we praise and shout out our crowd constantly. We know that there are DJs trying to throw cool niche parties like The Solution all over the world that don't pan out, often times because there's not a musically inclined, open-minded crowd coming out to help get the party off the ground, and we know that we could very easily be in the same boat without your love and support, so on that note, let me thank you on behalf of the whole crew for an INCREDIBLE 8 years and cheers to many, many more Denver!!! – DJ Low Key
So anyway, let's talk 2015 and all the great stuff we have lined up to celebrate our 8 year anniversary! On an all month long note, we're excited to bring together an all-star lineup of Denver favorites for The Art Of Records IV:4 Decades Of Classics, the latest in our ongoing art show series based around reimaginations of classic album art and the vinyl records the sound and art are immortalized on. 2/6/15 is the show's opening party and to make sure there's ample time for everyone to take in the artwork before things get too crazy, we're going to be starting the party early, at 7pm, for First Friday fun. Check out the fantastic lineup of artists we have contributing to the show:
Joseph Martinez
Karma Leigh
Meeg Conroy
Thomas Evans
Jaime Molina
Michael Coriano
Tristan Minton
Patrick Hansen
Delton Demarest
Filthe
El Marsito
Dunn The Signtologist
Rawh
Dread
TiredPirate
On top of the beautiful surroundings, we'll be welcoming party co-founder Sounds Supreme out to join weekly residents DJ Low Key & Lazy Eyez on the turntables for what's sure to be some inspired music. We're excited to start getting Sounds Supreme back involved in the party with monthly guest spots, so stay tuned for more from him. We'll also be celebrating the birthdays of our two favorite photographers, official Solution photographer Knower Of The Ledge aka Armando Geneyro and his #TheyShootn associate Blake Jackson. Both of these guys have taken a ton of great photos of the party & probably you if you're a party regular, so make sure to wish them the best and grab them a birthday drink or two.