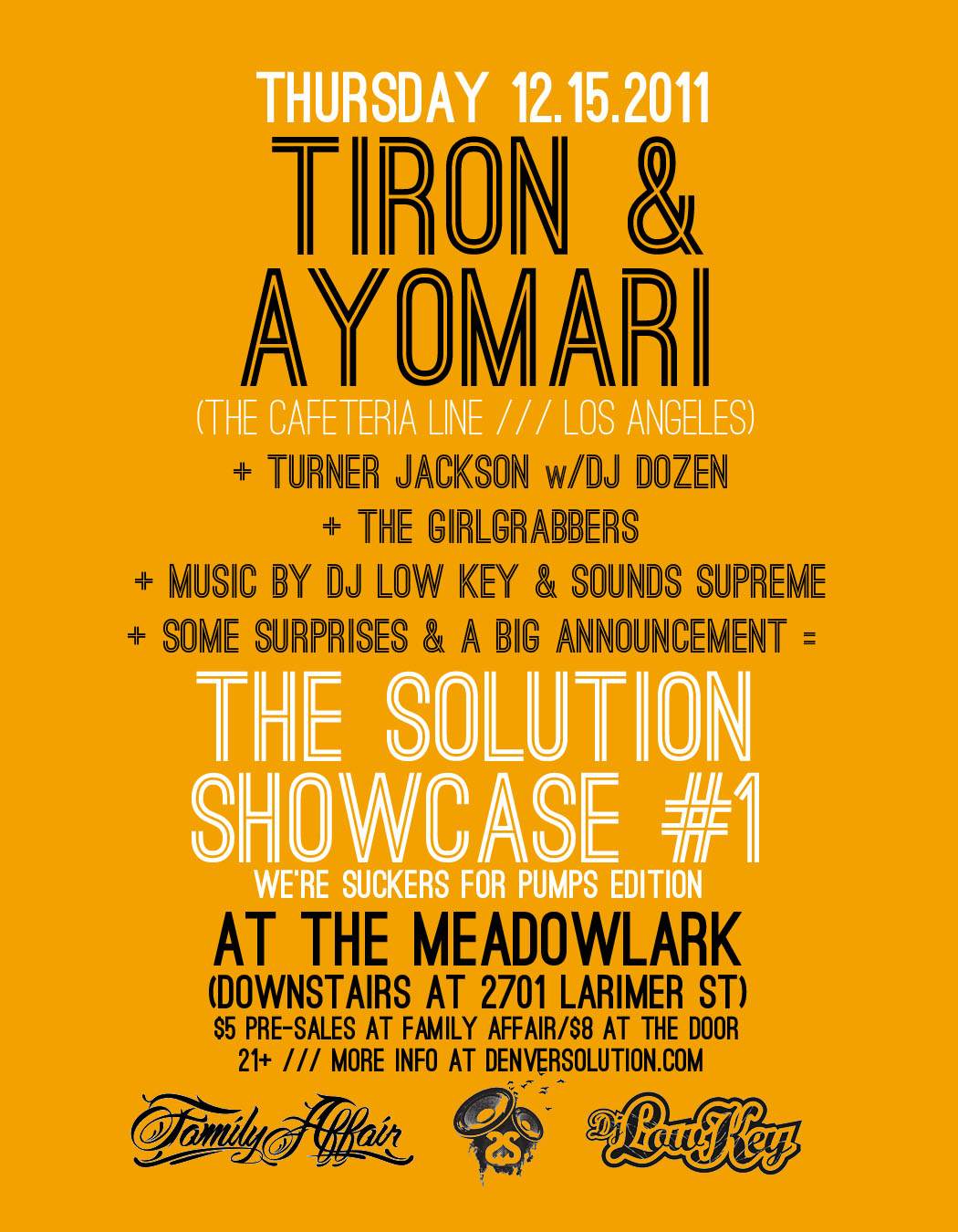 (Catch TiRon & Ayomari when they hit Denver on 12/15 for the Solution Showcase #1)
It was a star-studded event in Los Angeles's premiere venue, The Music Box, where the sold-out crowd gathered to watch their beloved hometown hero, Kendrick Lamar. Big names like A$AP Rocky, Krondon, and Busta Rhymes were in the house as either entourage or performers and even the mythical Dr. Dre had a section of the balcony for himself to enjoy the festivities without being hounded by the peons. Featured on the bill, Left-Coast duo TiRon & Ayomari caught everyone by surprise as they preached about relationships and love's many complexities, while eloquently doing live renditions of their highly acclaimed project, A Sucker for Pumps.
After the show, the two rappers sat down with The Crew's own Raj to enlighten their audience as to how they were brave enough to dedicate an album to love, where they want the project to take them, and of course to serve as alarm clocks to wake up everyone else who's been comfortably snoozing on them.

Graphic By Talia
TSS: What would say inspired you guys to make A Sucker for Pumps?
TiRon: Really, we had done all these relationship songs like "Ms. Right" and "Sydney" and so many relationship-esque records that were kind of different anyways, so we thought "what if we did like a whole album on it?" Because there's been a trend in Hip-Hop. There's been a lot of bullshit like 'I'll buy you the moon and the stars and all this other stuff' and then there was 'fuck bitches, get money.'" Anger isn't necessarily that cut and dry and love ain't that cut and dry. Basically we wanted to make an album with all of that gray in between.
(Check out the rest of the interview here)