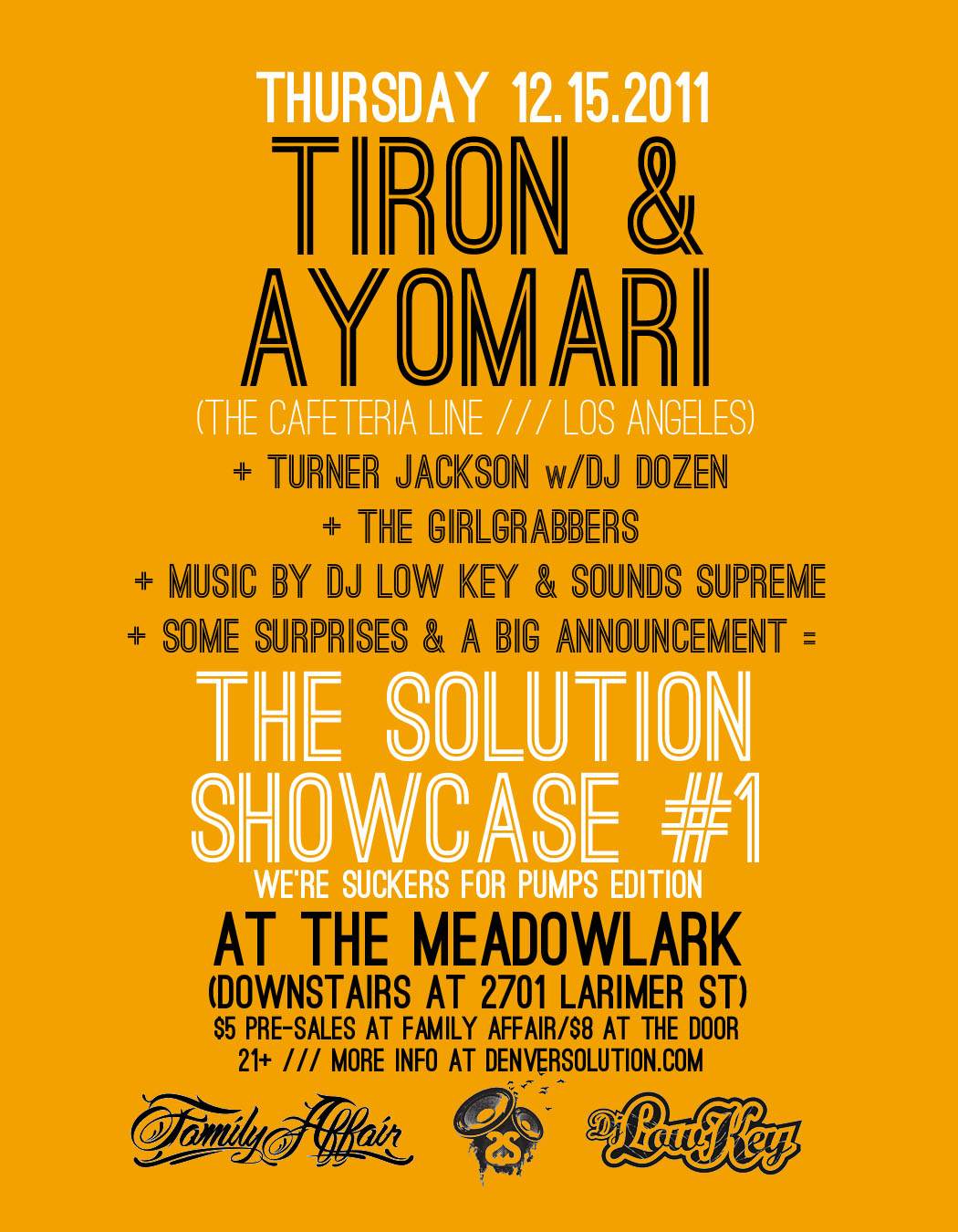 (Catch TiRon & Ayomari when they hit Denver on 12/15 for the Solution Showcase #1)
It was a star-studded event in Los Angeles's premiere venue, The Music Box, where the sold-out crowd gathered to watch their beloved hometown hero, Kendrick Lamar. Big names like A$AP Rocky, Krondon, and Busta Rhymes were in the house as either entourage or performers and even the mythical Dr. Dre had a section of the balcony for himself to enjoy the festivities without being hounded by the peons. Featured on the bill, Left-Coast duo TiRon & Ayomari caught everyone by surprise as they preached about relationships and love's many complexities, while eloquently doing live renditions of their highly acclaimed project, A Sucker for Pumps.
After the show, the two rappers sat down with The Crew's own Raj to enlighten their audience as to how they were brave enough to dedicate an album to love, where they want the project to take them, and of course to serve as alarm clocks to wake up everyone else who's been comfortably snoozing on them.

Graphic By Talia
TSS: What would say inspired you guys to make A Sucker for Pumps?
TiRon: Really, we had done all these relationship songs like "Ms. Right" and "Sydney" and so many relationship-esque records that were kind of different anyways, so we thought "what if we did like a whole album on it?" Because there's been a trend in Hip-Hop. There's been a lot of bullshit like 'I'll buy you the moon and the stars and all this other stuff' and then there was 'fuck bitches, get money.'" Anger isn't necessarily that cut and dry and love ain't that cut and dry. Basically we wanted to make an album with all of that gray in between.
(Check out the rest of the interview here)
Leave a comment
Join The Solution newsletter for details on upcoming events, free music, party photos, video & lots more!!!
Add us on Facebook…
The best club night in Denver (c) Westword 2010 & the people…
Every Friday Night: The Solution w/DJ Low Key, Lazy Eyez & friends at the Meadowlark…
The best in hip hop & a whole lot more.
Complimentary photo booth.
Food by Year Of The Snake.
Beautiful patio.
No cover until 11 / Only $5 after.
Facebook
.
Twitter
.
Tumblr
.
9pm / 21+ /
2701 Larimer St
.
The Solution named "Best Club Night Return" in Westword 2013 Best Of Denver…


At this point, the Solution is well on its way to becoming a Denver institution. But it isn't just our town's longest-running and most revered hip-hop night — it's also a testament to quality and resilience. Despite having moved virtually all over town since it was founded half a dozen years ago by DJs Low Key and Sounds Supreme, the Solution continues to draw a faithful crowd wherever — and however — it goes. Even after the Solution took a hiatus from weekly parties, the Solution crew continued to offer showcases featuring a parade of the best local MCs and producers, along with lauded acts from elsewhere. And last month, when the Solution returned to a weekly format at its new home at the Meadowlark, all was right in the cosmos again. - Westword
DJ Low Key & Sounds Supreme – The Solution Tape #1 (hosted by U-N-I & Ro Blvd)
Featuring exclusives and world premiers from Von Pea, Ilyas and Donwill of Tanya Morgan, Exile, DJ Day, Che Grand, Kooley High, Median, Donnis, Ro Blvd, Mike Baker, 1 O.A.K., Whygee, Kid Hum, 8thW1, Adad, Buff1, Waajeed, Moe Green & more. Get your copy at the Solution or download it for free by clicking the cover above.
Categories