Madlib
Our good friend out in Brooklyn and frequent Solution guest, Che Grand, recorded us this ridiculous Solution anthem last year (in fact, a shorter, alternate version appeared on Che Grand & DJ Low Key – The Fixtape Too).  It features him MURDERING a futuristic Madlib joint and talking about his favorite party.  Download it for free below to get a preview of the heat we're bringing for The Solution Tape #2 and make sure to get up on Che Grand's music if you're not already.
In case you missed it back in October '08, we had 2009 XXL Freshman member and the newest member of Lupe Fiasco's All City Chess Club crew, Mickey Factz, come through the Solution for a surprise visit.  We were having a release party for Madlib's Beat Konducta Vol 5 & 6:A Tribute To Dilla that night and winding down everything when Mickey showed up around last call and proceeded to spit some off the top freestyles while an intoxicated DJ Low Key rocked Madlib beats.  Check out Mickey's debut album later this year and download his Solution freestyles below:
.:Mickey Factz – Freestyles at the Solution – 8/17/08 (Live in Denver, CO):.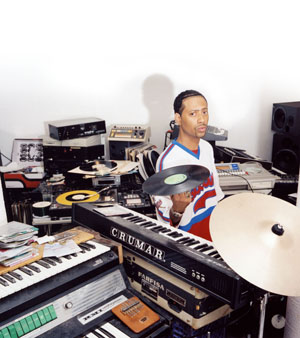 From djlowkey.com: Contests are always fun, right? I have a pair of tickets to the show I'm rockin with Madlib and Alex B on 4/22 to giveaway, plus a fresh Akomplice tee as an added bonus…Be the fifth person to e-mail me two different Madlib aliases at questions[at]djlowkey.com and they're yours…Otherwise you can get your pre-sale tickets here for $18 or for $23 dollars the day of…Also, you can cop Akomplice gear at Family Affair, Akomplice-Clothing.com & at finer clothing stores worldwide…See y'all in Boulder…