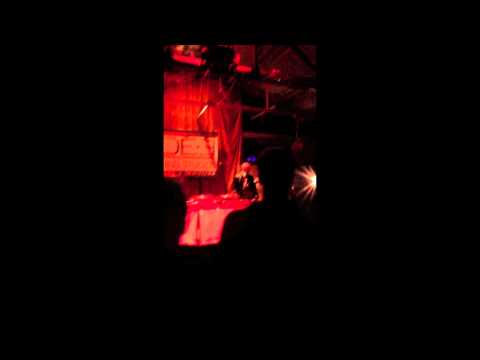 Solution Beat Battle winner BK Beats wrote a little something about his experiences at The Solution Beat Battle and Solution Showcase (he played at #5 as part of his prize).  With The Solution Showcase #11 right around the corner, now seemed like a great time to share his experiences with everybody:
Off top, MAD love to all the folks in Denver who've helped make it happen for me, showed my music love, or just downright know good music and how to nurture it. Shout out to DJ Low Key for rocking with me from the start! He's really about this music, living and breathing it, with an ear to the street at all times.

My experiences in Denver started off with the February Solution Beat Battle, Courtland Urbano and Boonie Mayfield showcase, as well as dope ass Tanya Morgan set. @Imtrumaine, a friend and fellow producer out of Chicago hit me up to let me know that Boonie Mayfield had been tweeting about the show and that I should enter. I was a bit frustrated with the music climate in Albuquerque NM or the lack thereof in my eyes so I sent in a few beats the day of the deadline as well as a little write up including some names of who I've produced for and such. Didn't hear back for a week or so and started to sweat it, until Low Key hit me up and let me know I had made it into the Battle. I got a few friends together for the trip and went for it!

What was illest was that Low Key knew of most of the cats I'd produced for! Just to show his good taste and network he was more than familiar with Moe Green a bay cat, featuring a track from him on his and Sounds Supreme's The Solution Tape #1. Add 2 was another dude Low Key was up on, great talent out of Chicago and featured performer for tonight's party!!

The Battle was CRAZY! Everybody showed each other love, which was greatly appreciated with me being from out of town and all that, it was a lot of comradery, love for music, and overall TALENT. Met a lot of really dope folks at the battle, most of those I keep in touch with on the semi-regular. That weekend was amazing, I turned 21 the day before this show, and thus was allowed in, and all the good people definitely gave me the inspiration and encouragement to keep pushing my music… Shout out to my backup dancers as well! Winning was unreal, I'd never won ANYTHING before! I was in some serious shock when the judges made that announcement. But shouts out to Big J, Cliff Cage, Jordan, Dealz and all the other beasts I went up against. Shouts out to Boonie for the kind words, Courtland for the encouragement, and Tanya Morgan for fucking with me. That was an insane night. Left town around 2am and went straight to work off no sleep haha, waaay too excited from the show to even let that trip me out though.

As part of winning, I got to come back to do some recording at Side 3 Studios with the homie Chase and my friend Pablo who is an incredible piano and guitar player. I picked up a ton of dope/free gear from Family Affair, and ultimately got to spin a live beat set at one of the next Solution shows. Side 3 Studios was a sick experience, amazing studio and amazing folks. Really understood my vision and made the work reflect that. Chase is a really talented cat, I need to really get my $ up and go put in some more work over there! Regardless, this is where the idea for my instrumental EP with Pablo 'Time is of the Essence" really came from. I decided to use my time at Side 3 to just record live instrumentation for this EP rather than any vocals or anything like that, and all the music came out INSANE! Pabz and Chase killed it! I can't wait to release this stuff, it's looking like before August, and will feature some really dope bonus cuts with a couple MC's! Family Affair was really awesome as well! They had a lot of real clean gear from the illest in street wear brands. They're ultimately a really well run shop! Plus they showed my music and me a lot of love just based off of the beat battle, so much love to the homies there! Had me feeling like a star, I could really get used to getting free gear haha.

But overall the sickest part about winning and coming back to Denver was The Showcase. That was my first real show ever, so I was super blessed. I got to open for some real talents like Whygee, Brik-A-Brak, and Median of JAMLA and Justus-Fuckin-League!! I put together a playlist, and Low Key showed me how to use Serato during sound check, and I basically tried to outweigh my nervousness with the amount of brand new material I had on deck. I played about 20 minutes of new stuff, some collabs, remixes and exclusives. Seemed like people enjoyed it, so that's all I can ask for…Plus, the Meadowlark was a groovy venue! I was even blessed enough to coincidentally have my Mom in Denver for work that weekend, so she made it out! Shouts out to the girl who bought Moms and I vodka shots hahaha! Also shouts out to everyone who came out, showed me love that night, and everyone I opened for, all great folks! Might have some work coming with a few of the names mentioned above.
All my experiences in Denver and with The Solution have really been blessings, I credit you all with the drive I've had these past couple months, and the overall decision to keep going full steam ahead with music! Denver has so much love for my music. It's truly still all pretty unreal! I'm super thankful for all of the big homies that helped me get my foot in the door! And hope to work a lot with this really awesome circle of folks a lot more in the future! Another example of great folks, and great music brought to you by The Solution!  Hope to make it up to the city again soon. – BK Beats