The Shelter
To get ready for the 4th Anniversary of the Solution on Friday, Feb. 4th, we're checking in with some of our favorite regulars and people around Denver to hear what their favorite moments from the party have been.  Here's favorites from Denver hip hop legend Big Styles fka Styles N' Fashion and nationally renowned, Denver-based artist Dunn the Signtologist; stay tuned for more classic memories leading up to the party on 2/4.
Styles & Fashion's Top 3 Solution Moments:
1. DJ Low Key channels Charlie Murphy at his birthday party at the Solution at the Shelter: We all know DJ Low Key, but do we really know Low Key? I know him as a Southern gentleman, discriminating tastemaker and heterosexual male Subaru loyalist (a first!). So imagine my shock and awe when at his birthday party back in '07 at the OG solution when he broke character and "rocked the mic." After performances by Che Grand and Tanya Morgan (which I largely missed, you will see why in solution memory #3) suddenly over the loudspeakers we all hear: "Aight you bitches! this is the last motherfucking song of the night! shout out to all the people who bought me drinks tonight! I'm fucked up! Bitches! Where is the afterparty? Shout out to motherfucking Che Grand up in this bitch!" I thought sure it was Charlie Murphy, but nope, it was Justin Green, aka DJ Low Key stumbling over his words and his feet at the end of the night.
2. The GOOD Fridays reunion at the Solution at 3014: It was just a couple of months ago, but already it's one of my favorite Solution moments. After a lil' bit of hype (internet buzz I think is what the young folks call it) I hustled on over to 3014 Colfax to be embraced in what I thought was sure to be some revisionist history. Who are rap fans if not complete revisionists? The original GOOD Fridays was ahead of its' time, back when people thought Kanye sucked, rap music had sold out, and no one supported "real hip hop". Thank God those days are gone! "Rap fans are always jumping at the chance to claim the past. This is going to be big" I thought to myself as I strutted with pride toward the Solution and swung open the door to find: a half empty bar, a few die hard fans and a solemn DJ Low Key. "Cheer Up homeboy!," I yelled at Low Key over Sounds Supreme surprisingly NOT playing "Lady Don't Tek No" by Latryx (I almost didn't recognize him.) "This is just like a real GOOD Friday, everybody swears they're coming, no one actually does." I felt bad for ruining the Solution for a night, but it felt good to reconnect with the folks that did come out. DJ Massv, one of the OG GOOD Fridays crew got his car towed before he could even make the venue, so he didn't attend. Gotta love this rap shit.
3. Jessica aka "The Bartender" – I know what you're thinking: Styles, do we need to blow this chick's head up anymore? Yes, yes we do. Aside from DJs, "The Bartender" has been the only mainstay for me at the Solution. You never forget your first time, and my first time was back in '07 at Low Key's birthday party. What's crazy for me is how directly this night mimicked the lyrics to T-Pain's hit from the same year, ironically titled- wait for it: "Bartender." (I know right! T-Pain is a GENIUS!) Follow the eerie parallels: 1) I had just broke up with my girl, and had gone to the club. 2) I was just looking for someone to talk to and show me some love. 3)Everybody was jocking me as soon as I stepped in the spot. 3) We can all agree that Jessica is a prettly lil' thing, and the bar at that time was up at the top. 4)When I ordered my beer she indeed showed me some love (well she had to, the manager at Bar Standard recognized me and comped my beer! ) 4) She gave me drinks to drink 5) I drunk em. 6)I could have sworn that I thought she she thought I was cool. 7) I gave her a wink 8)she winked back…..and that's where the similarity ends. Yup, I ignored the live performances and instead hit on "the bartender.' Of course I thought I was brand new, in reailty I quickly became another statistic on the "Dudes at the Solution who have hit on me" chart that I imagine the nerdier version of Jessica has on her laptop. But for a few minutes many moons ago, life absolutely imitated art. God Bless T-Pain, and God Bless the Solution.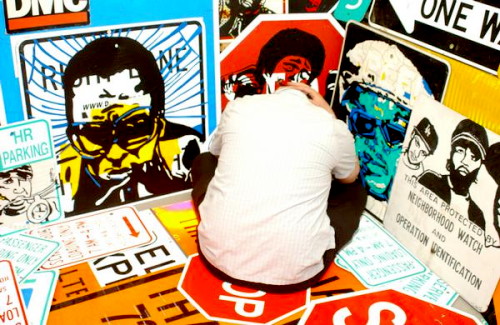 Dunn the Signtologist's Top 3 Solution Moments:
1. The first time I was able to hang my art in conjunction with the Solution at the Funky Buddha: It was a crazy place to hang work wiring signs to posts and pipes around the covered rooftop venue. It turned out to be an amazing event it was one of the first hip hop themed nights in Denver I had been able to display my artwork. I remember the great experience of watching everyone dancing, drinking, networking and interacting with my artwork.
2. The Akomplice Season Six Release Party at the Solution at the Shelter:Â  A fashion show put on by Akomplice & an art show put on by The Signtologist was set up on the roof top of along with a stage for some special guests Akomplice brought along. It was one of the first events I had done with Akomplice and was the perfect meshing of street wear with street art presented to The Solution's fan base. This was first of many shows Akomplice & The Signtologist did with The Solution over the years.
3. The Solution Returns at 3014:Â  My first time walking into The Solution and it's newest home at 3014 on Colfax. The Solution has lived a lot of places around Denver over the years and done so many huge events! But for a minute it went missing in action and was homeless and there wasn't a place in Denver to go on Fridays for guaranteed great hip hop. I was so happy to walk into 3014 and see nothing had changed just the venue. It's always been about great music, people dancing, seeing the same family always in attendance and feeling once again that familiar community vibe. Thanks for all the memories fellas!
To get ready for the 4th Anniversary of the Solution on Friday, Feb. 4th, we're checking in with some of our favorite regulars and people around Denver to hear what their favorite moments from the party have been.  Here's favorites from writer Ru Johnson and Ill Seven of Isolated Generation; stay tuned for more classic memories leading up to the party on 2/4.
Ru Johnson's top 3 Solution moments:
1.  One of my first times at The Solution (at the Buddha) one of the deejays played "Cher Chez La Ghost" and there were literally 20 of us singing and rapping at the top of our lungs. And, I'm pretty sure was a dance-off between Little Wing and some random guy in a vest. We banged on walls and the stage and danced like there was no tomorrow.
2.  Pretty recently at the 3014 location, Low Key effectively slayed our hip-hop souls with the addition of some Jay Electronica "Exhibit C" into the playlist. Looking over at several cats from the scene completely jammin out, I realized The Solution is the ONLY Friday night party that speaks to the hip-hop purist in me.
3.  It was a freezing Friday eve when the guys were still rocking at Funky Buddha. I was rolling deep with the homegirls and we decided to "last call" it at The Solution. Sounds Supreme dropped "Soldier of Love" (this was right when the song came out) and the vibe was so perfect, I could have been at a basement party in Brooklyn.
Ill Seven's top 3 Solution moments:
1.  The Solution's Annual Chicken & Waffles Parties: First would have to be the way they held it down with the west coast "Chicken and Waffles" tribute parties!  I'm from the west coast and I've never seen anyone 'til them do anything with Chicken and Waffles out here in Denver…and on top of that, hold it down with such a strong west coast vibe, got to love the ideas these guys come up with.
2.  The 2010 (4th Annual) Solution J Dilla Tribute w/ Slum Village at Bar Standard: Seeing SV Live! I'm a big fan of Dilla and SV; Low Key and Sounds Supreme held Dilla down in such a dope way…I think Dilla would of been honored.
3.  Tanya Morgan & Che Grand at the Solution on the Shelter's Rooftop:  Last but not least, was the Tanya Morgan show, the first time I saw those cats was at The Solution, and I became a fan. I was hearing a lot of dope things from Low Key about those guys, and knowing the type of music that they play at The Solution I trusted that they would be dope live, and without a question they killed it.