Spenser B.
FRIDAY, 5/9 -> Denver hip hop fixture Spenser Bernard (Spirit Of Hip Hop Park Jam co-founder/Former Hip Hop Congress President) is heading to Ecuador with the Peace Corps & we're bidding him a fond farewell at The Solution w/DJ Low Key & Lazy Eyez, where special guest DJ Cysko Rokwel (Crunk Brothers/Former DMC New York Champ) will be joining us on the turntables at the Meadowlark for a night of great hip hop and everything else dope!
Also, Slider Shack will also be on the block with their delicious variety of gourmet sliders and crack fries and Armando Geneyro aka Knower Of The Ledge will be taking party pics throughout the night!!! 21+ / 9pm / No cover til 11pm / $5 after /Â 2701 Larimer St.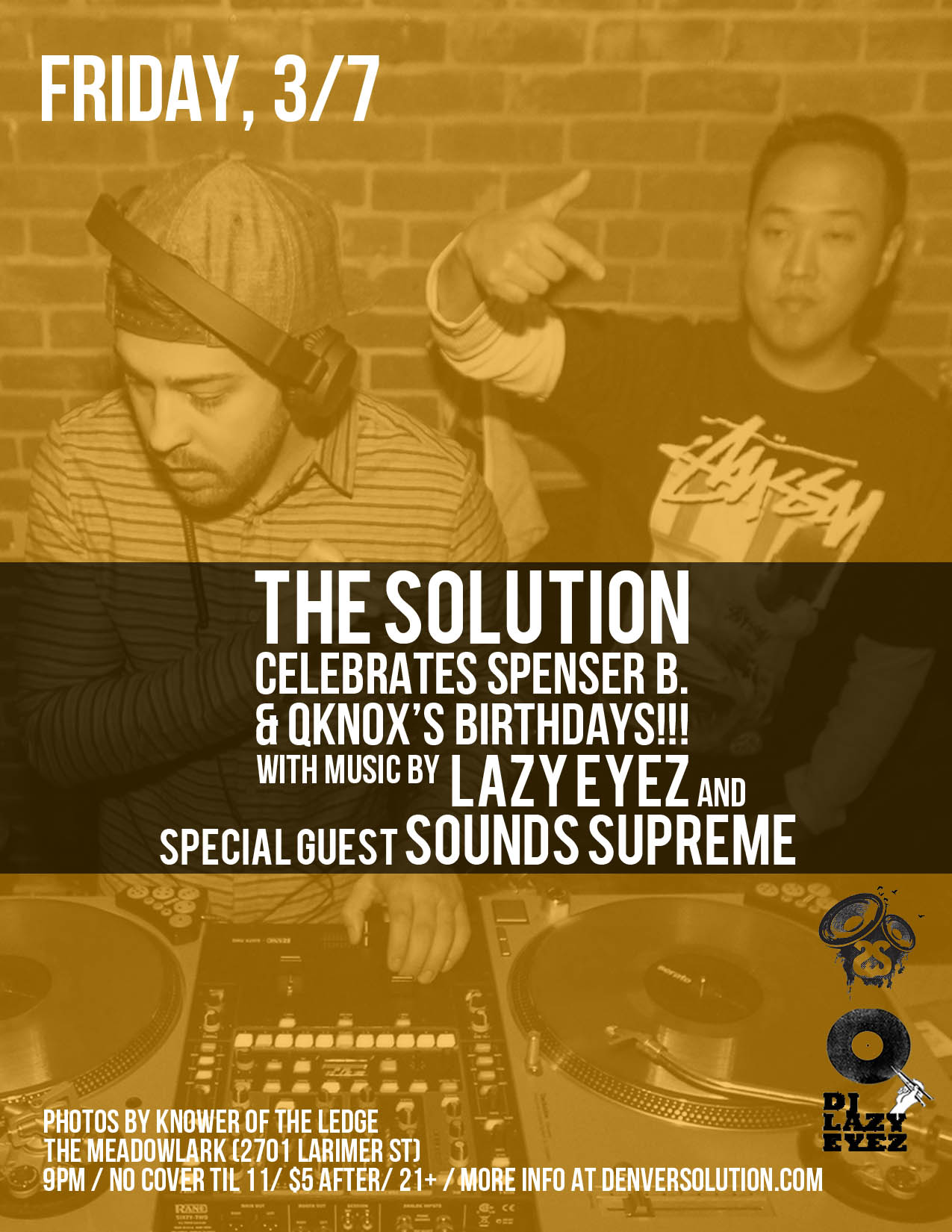 FRIDAY, 3/7 -> We're welcoming Solution co-founder and Denver favorite Sounds Supreme back for a guest set with Lazy Eyez (DJ Low Key's on the road w/Tanya Morgan this week) to celebrate the birthday's of two Colorado hip hop mainstays, Spirit Of Hip Hop co-organizer Spenser B & musician extraordinaire Qknox (of Girlgrabbers & Bigwheel fame) the Meadowlark. Solution photogapher Knower Of The Ledge will be in the spot and after all of last month's craziness for #TheSolution7, the fun should only continue on at "Denver's best hip hop party" (c) Dear Denver, come see why!  2701 Larimer St / 9pm / 21+ / No cover until 11, only $5 after.  More info on the party on Facebook/Twitter/Tumblr/Instagram.