Qwel & Maker
WEDNESDAY, 2/26 -> UPDATE: We just added renowned Chicago producer/DJ Maker (of Qwel & Maker fame) to the bill! Still only $10.
Ahhh, February. You noticed right, that is the sound of fresh, new battle-ready beats you've been hearing out of basements and studios around the city as producers, beatmakers and instrumentalists get ready for The 2014 Solution Beat Battle at Beauty Bar Denver (608 E. 13th St)!!! Last year's battle was a blast, with DJ Spyda T.E.K. edging out Cliff Cage and ten other ridiculously talented producers (recap here via HipHopRollCall.com) to take the 2013 title. This year a dozen producers will be battling for the crown, plus a ridiculous prize package featuring:
-$250 in Akomplice gear
-A $100 Zengo gift card
-$100 in gear from Family Affair
-An interview with internationally acclaimed site, PotholesInMyBlog.com
-A photo shoot with official Solution photographer Knower Of The Ledge
-A paid guest feature at an upcoming Solution Showcase & more TBA
The competition is always thick and the camaraderie is always off the charts, so head down early and catch Denver beat-making community shining on one of our favorite nights of the year. The main focus is on Denver's scene and the battle, but we're also excited to welcome some other ridiculous talent down for the night.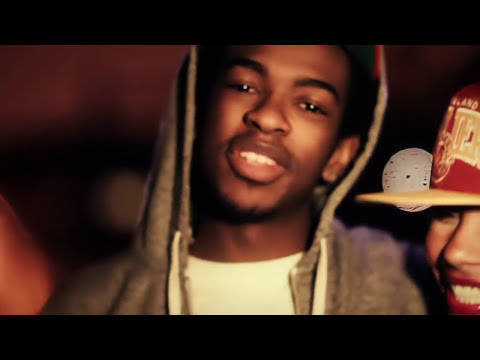 Chicago's own Brandun Deshay, who's produced songs for everyone from Danny Brown to Chance The Rapper to Casey Veggies, on top of ripping mics on his own, will be back in Denver after performing at The Solution Showcase last year to rave reviews. He'll be joined by brilliant one man band and musical genius Fast Forw4rd, 2013 Beat Battle winner DJ Spyda T.E.K. & Denver mainstay Big J. Beats in showcasing music for the crowd, while Solution residents DJ Low Key & Lazy Eyez hold down the turntables and hosting duties for the night.
$10 cover gets you into the battle & the afternoon's Beat Workshop (details below). 21+ / More info on the battle & The Solution on Facebook/Twitter/Tumblr/Instagram.
The Solution Beat Workshop
Wednesday, 2/26 from 5-7pm -> We're excited to holding our first Solution Beat Workshop, featuring Chicago producer/MC extraordinaire Brandun Deshay (production credits include Chance The Rapper, Danny Brown, Casey Veggies, Curren$y, Dom Kennedy, Tanya Morgan & lots more), Denver favorite Big J. Beats and 2013 Solution Beat Battle winner DJ Spyda T.E.K. talking production techniques, creative processes, equipment and software, the business side of beatmaking, answering questions from the crowd and more before the battle gets going.  The focus will be intermediate and advanced techniques, but all ability levels are welcome.  The workshop is free with a $10 ticket to The Solution Beat Battle.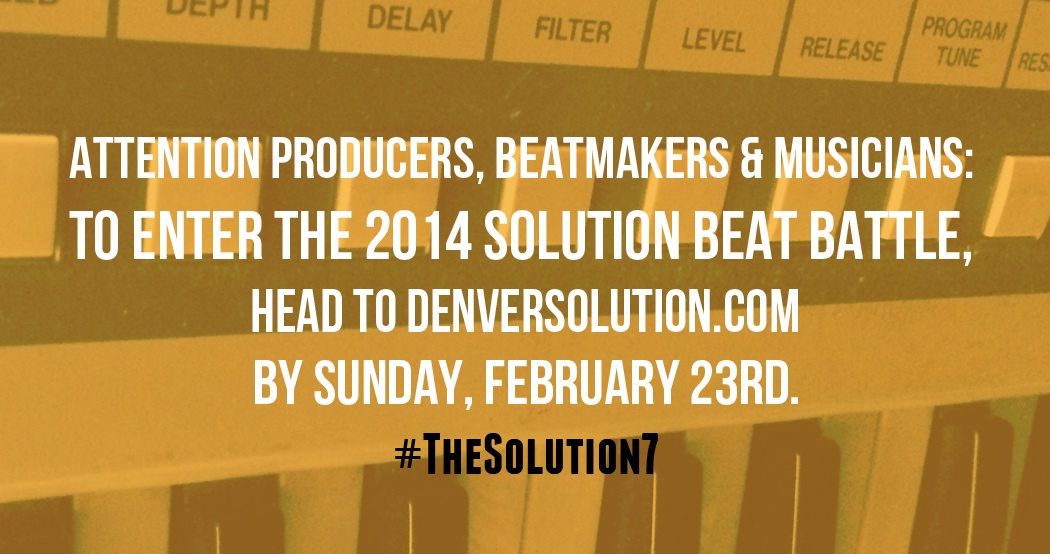 Producers, beatmakers, musicians & such, if you'd like to enter The 2014 Solution Beat Battle, here's what you need to do by midnight on Sunday, 2/23.  Please send either:
-A soundcloud link to 3+ of your beats
or
-An e-mail with 3 beats attached
or
-A streaming link to a project you produced
and
-a photo of yourself (to be posted when the competitors are announced)
and
-a short bio
to:
thesolutionbeatbattle <at> denversolution (dot) com
No application fee necessary.  Once again, the submission deadline is Sunday, 2/23 at midnight.  Participants will be announced on Monday, 2/24.
FRIDAY, 5/31 -> We're excited to be partnering up with You Heard This to bring Chicago DJ/producer Maker out to The Solution for a DJ set at the Meadowlark.  Maker's probably best known for his work with partner Qwel and Greyskull crew, but also spins parties all around the country, rocking a variety of styles.  Catch him joining The Solution's own DJ Low Key & Lazy Eyez on the turntables for what should be another great Friday at "our town's longest-running and most revered hip-hop night" (c) Westword 2013 Best Of Denver.  Shouts to Mane Rok.  9pm / 21+ / No cover til 11 / $5 after / 2701 Larimer St.