Gyp Da Hip

SATURDAY, 6/23 from 9pm-2am ->
1 Night. 6 DJs. 6 styles.
For one night only, we're flipping the formula for The Solution Showcase and making #7 the CO DJ Edition w/K-Tone, Cysko Rokwel, DJ Top Shelf, Deejay Tense, Gyp Da Hip & DJ Low Key aka all six of the DJs nominated for "best hip hop DJ" in the Westword Music Showcase (make sure to vote for your favorite here by 6/25).  It'll be rare chance to see why the six of us were nominated on the same night, in the same building, with a fresh party vibe at the Meadowlark (2701 Larimer) /// 21+ /// $5 with an RSVP to RSVP@DenverSolution.com or Westword Music Showcase ticket stub or $8 at the door.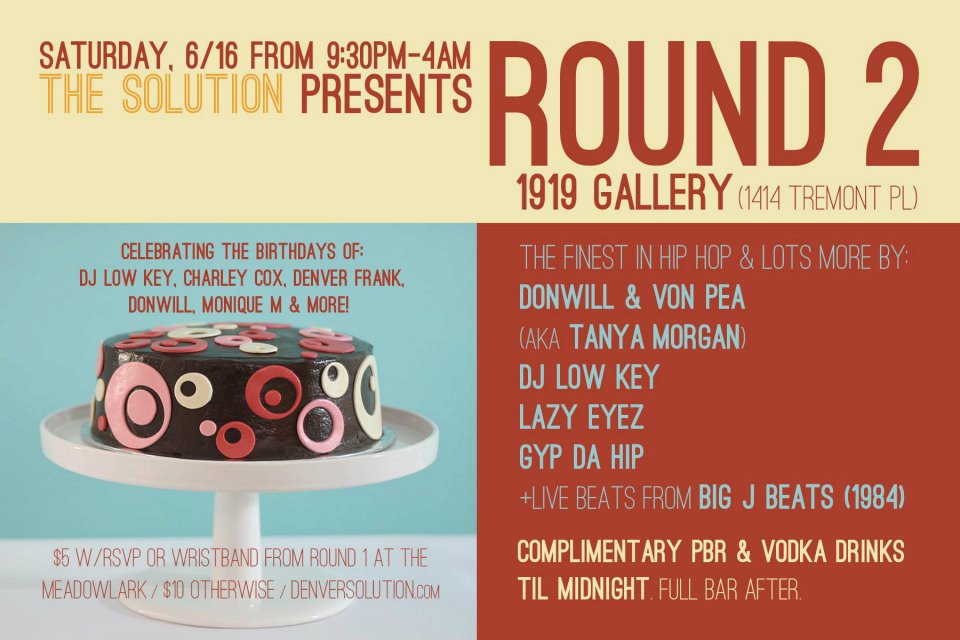 SATURDAY, 6/16 from 9:30pm-4am -> The birthday madness continues on after Goodness at the Meadowlark with Round 2 at 1919 Gallery (1414 Tremont).  We've got music by Donwill & Von Pea of Tanya Morgan (NY), DJ Low Key, Lazy Eyez, Gyp Da Hip & a live production set from Big J Beats (of 1984) to celebrate the birthdays of Charley Cox, Denver Frank, Monique M, Donwill & DJ Low Key, plus complimentary PBRs & vodka drinks til 12 (full cash bar after). $5 w/wristband from the Meadowlark or RSVP / $10 otherwise.
Also, Saturday, 6/16 from 3pm-9pm -> Birthday madness Round 1 at Goodness on the Meadowlark's patio (2701 Larimer St). Special performance from Tanya Morgan (NY), music by DJ Low Key, Sounds Supreme, Lazy Eyez & DJ Amen, Summertime fashion show by Family Affair, tacos by El Chingon and celebrating the birthdays of DJ Amen, Charley Cox, Denver Frank, Monique M, DJ Chonz, Donwill & The Solution's own DJ Low Key. No Cover/21+.