Fo Chief
Denver, you probably already know Fo Chief.  Or maybe you know his crew, Fresh Breath Committee.  Best known as a member of the FBC collective, Fo Chief has been putting it down for years but just recently started getting into solo projects as well.  Just recently he dropped the Airbag Jones EP and tomorrow he drops his official solo debut album, Out The Deep End, just in time to perform some of the new songs at this month's Solution Showcase #11, so we're gonna focus on that.  Based on "Chapters 12", the song he just sent us to leak, the album's gonna be one of the better CO hip hop releases of the year.  Take a quick listen to it below or right/control click to download it.
.:World Premier: Fo Chief "Chapters 12":.
Now that you've had a taste, here's more info about Fo Chief's upcoming debut album, Out The Deep End:
Out The Deep End is the debut solo album from Fo Chief of Fresh Breath Committee and produced by Majestic Beats of Providence, Rhode Island. This lyrically impressive album has something for every music palette. Fo Chief shows that he can not only rhyme with the best of them, but can also nail the notes in each and every chorus on the album. The beats and production quality are outstanding. Majestic's production skills match the soulful, darker overall vibe of the album seamlessly. This album is proof that it pays to cross state lines and engage with some of the best national talent.
Out The Deep End comes on the heels of Chief's mix tape "AirBag Jones – A Quick Fixtape." Other previous projects include the Colorado classic mixtape "Cannonball Soup" with Kontrast of the Fresh Breath Committee, "Nothing Else Matters" with ProCYSE of Soulfficial and recent 2011 FBC release "Group Therapy". Out The Deep End is the first Colorado collaboration project for both Fo Chief and Majestic Beats. Majestic Beats has produced for some of Rhode Island's finest emcees including Swann Notty, Miles Grimes, Writes, & Shay Witty, not to mention production on the award winning track "Letras" from Portuguese rap legend Sandro G, which continues to break records in the Azores & Portugal.
Although as an entity the Fresh Breath Committee has produced amazing content, it's always very refreshing to see a group artist step away from the pack and shine on their own. This album also proves that Fo Chief has the support of his committee behind him, as each member of the group appears in several of the album's tracks. The album also features several non committee and former committee artists as well, such as ChampSoundKillaBlack of Foodchain, Kerz One of Sound Pictures, Sloe Sip and Myke Charles.
2012 has proved to be a prolific year for Fo Chief and 2013 should be even better. Look for a video set to be released early 2013 with production by Press Media Group and a second solo album from Fo Chief as well. Rumor has it that Cannonball Soup II is in the works. We can only hope.
Out The Deep End will be released for free download on Friday, December 21st at www.fochief.bandcamp.com. Catch Fo Chief performing live at The Solution Saturday, December 21st. For more information, visit www.denversolution.com. All Fo Chief and Fresh Breath Committee projects are available on www.freshbreathcommittee.bandcamp.com. Majestic beats music is available at www.soundcloud.com/majestic-beats.
So now that you know to be on the lookout for Out The Deep End, remember to catch Fo Chief marking the album's release at The Solution Showcase #11 on 12/22, along with Q-Tip/No I.D. protege Spree Wilson, CO production legend Boonie Mayfield, eclectic producer/DJ Neon Brown and all three Solution DJs; DJ Low Key, Sounds Supreme & Lazy Eyez at the Meadowlark (2701 Larimer St).
Denver, meet ATLien Spree Wilson.  We first heard of Spree a few years back when he dropped "Word!" with one of his mentors No I.D. (video below) because well, we'll check out anything No I.D. produces based on his work with Common, Jay-Z and such, not to mention the mentoring of his most infamous protege, Kanye West.  It took me a minute to get used to Spree's voice and No I.D.'s strangely electronic beat but it grew on me, just as I was hearing other work of his pop up on albums/mixtapes with Novel and DJ Deckstream and realizing the full on scope of dude's talent.  From there we heard a few more solo joints, "Pick You Apart" and some leaks from his critically acclaimed The Never Ending Now project which became staples in DJ sets at The Solution and while Low Key DJed at Guess.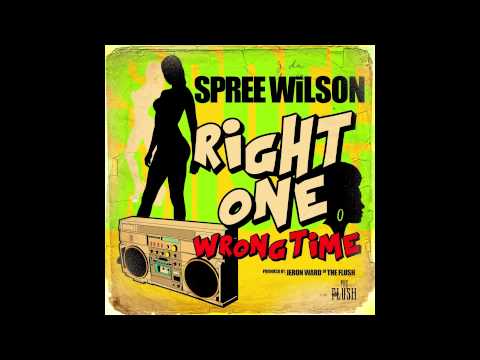 Above: "Right One, Wrong Time", one of our 2012 favorites.  /// Below: Very dope video for Spree Wilson feat Novel "King Sh*t (The Answer)".
Next thing I know I'm seeing Q-Tip shouting out Spree Wilson left and right, mentioning they're working together some and talk of Spree linking up with the likes of Outkast producers extraordinaires Organized Noise and The Flush, as well as G.O.O.D. music.  Spree did in fact link up with Kanye and crew, with writing credits on the Cruel Summer album plus six more yet to be released songs (!!!!!), as well as getting some work on the upcoming Cee-Lo and Theophilus London projects.  Then just a few weeks back, Spree dropped the ATL-bass inspired super JAM, "Right One, Wrong Time", that we can't stop playing, making now a great time to have him out for The Solution Showcase.
Above: Spree Wilson "Word!" (produced by No I.D.) /// Below: "Sin City", John Legend, Travis Scott, Teyana Taylor, CyHi Da Prynce & Malik Yusef "Sin City", co-written by Spree Wilson.
So now that you're up on Spree Wilson, we probably don't need to remind you that Saturday, 12/22 is your monthly chance to see a top notch talent in an award-winning intimate venue before they blow up, right?  Catch Spree making his Denver debut, along with CO production legend Boonie Mayfield, Fresh Breath Committee's Fo Chief, eclectic producer/DJ Neon Brown and all three Solution DJs; DJ Low Key, Sounds Supreme & Lazy Eyez for The Solution Showcase #11 on 12/22 at the Meadowlark (2701 Larimer St).