Fast For4wrd

Denver's premier hip hop blog, Hip Hop Roll Call has the scoop on the entire month's events for #TheSolution7, check it out HERE…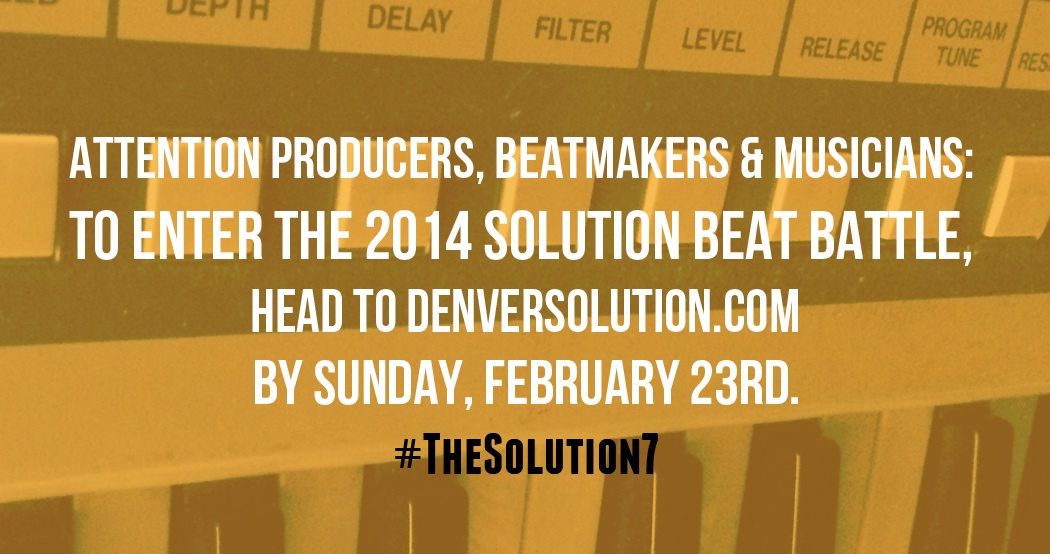 Producers, beatmakers, musicians & such, if you'd like to enter The 2014 Solution Beat Battle, here's what you need to do by midnight on Sunday, 2/23.  Please send either:
-A soundcloud link to 3+ of your beats
or
-An e-mail with 3 beats attached
or
-A streaming link to a project you produced
and
-a photo of yourself (to be posted when the competitors are announced)
and
-a short bio
to:
thesolutionbeatbattle <at> denversolution (dot) com
No application fee necessary.  Once again, the submission deadline is Sunday, 2/23 at midnight.  Participants will be announced on Monday, 2/24.
Join The Solution newsletter for details on upcoming events, free music, party photos, video & lots more!!!
The Solution x Spotify Weekly Playlists…
Add us on Facebook…
Get more familiar with The Solution w/DJ Low Key & Lazy Eyez…
Categories