DJ Matt Cassidy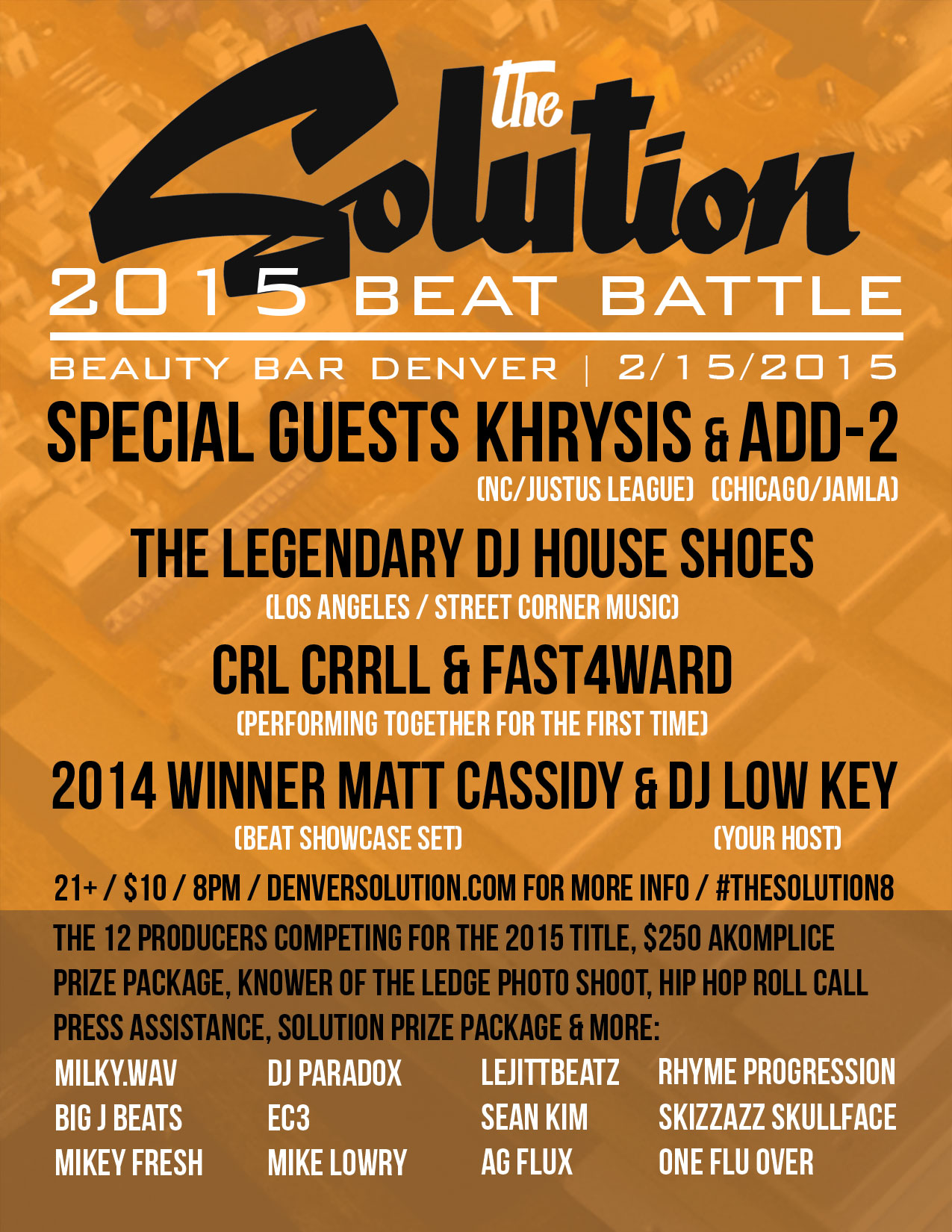 SUNDAY, 2/15 at 8pm -> The Solution Beat Battle is back for our 4th annual production competition! Here are the 12 (mainly) Denver-based producers/beatmakers/musicians involved:
Rhyme Progression
Lejittbeatz
AG Flux
Skizzazz Skullface
Sean Kim
One Flu Over
Milky.WAV
Big J Beats
Mikey Fresh
DJ Paradox
EC3
Mike Lowry
Prizes include a $250 Akomplice prize package, photo shoot with Armando Geneyro, a Solution/Goodness prize package, press assistance from Hip Hop Roll Call  & more, check out previous Solution Beat Battles for more info. 21+ / $10 / Doors at 8pm.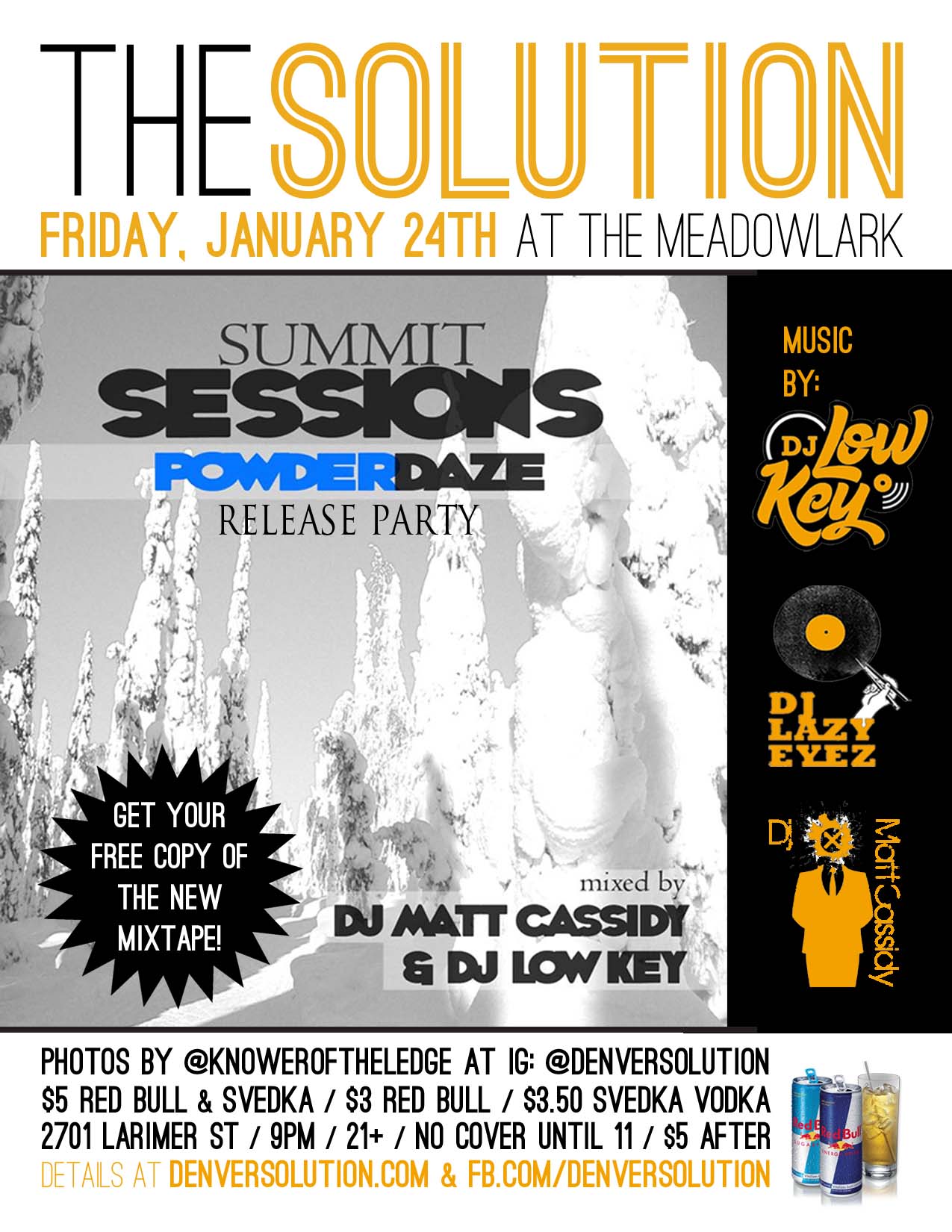 FRIDAY, 1/24 -> With the snowboard/ski season in full swing, it's only right for DJ Matt Cassidy to drop his annual Summit Sessions mixtape for your riding pleasure.  This year, The Solution's own DJ Low Key contributed to half the mix and we're celebrating it this Friday by giving away 100 free copies of the mixtape!  That's right, swing through, get a free copy and catch Solution residents DJ Low Key & Lazy Eyez plus special guest DJ Matt Cassidy rocking on the turntables.  Knower Of The Ledge will be in the spot taking top notch party photos, the vibe will be right and good times will be had by all at "Denver's best hip hop party" (c) Dear Denver, come rock with us!  2701 Larimer St / 9pm / 21+ / No cover until 11, only $5 after.  More info on the party on Facebook/Twitter/Tumblr/Instagram.
P.S. In case you hadn't heard, the Meadowlark recently enclosed more of their patio for the Winter and added some extra heaters, making it perfect for your smoke breaks, taking a breather from the dance party inside and/or getting a quick drink from the outside bartender.
WEDNESDAY, 6/26 -> The Solution Showcase is back at Beauty Bar Denver with another ridiculous lineup of talent from Denver all the way to Brooklynati.  For June's Solution Showcase #15 we're featuring Solution favorites and friends of the party, Donwill & Von Pea aka Tanya Morgan (Brooklyn / Lessondary), singer/musician Carl Carrell, producer DJ Matt Cassidy and Solution co-founders DJ Low Key & Sounds Supreme.  Tanya Morgan will be rocking some brand new joints off their highly anticipated Rubber Souls album with producer 6th Sense and based on everything we've hear dso far, Denver is in for a treat.  Carl Carrell will also be performing material from his new CRL CRRLL projects while featured producer DJ Matt Cassidy will be rocking a mix of new and old bangers for your listening pleasure.  Things kick off at 9 and we've got complimentary Red Bull Editions (their 3 new flavors) for the first 50 people who come out.  This one has all the makings of a classic, get your $8 pre-sale tickets at Family Affair downtown, at The Solution or Goodness or online here.  608 East 13th Ave / $10 at the door / 21+ / 9pm.