Chris Karns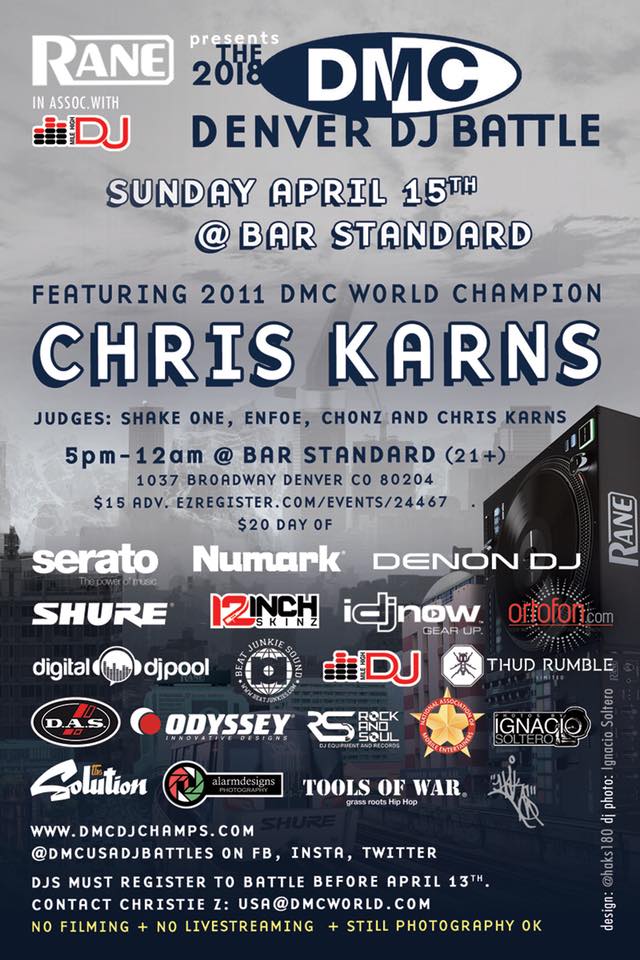 Sunday, 4/15 at 5pm -> The Solution's excited to once again be a sponsor of the legendary DMC Denver DJ Battle – check out the details below and DJs make sure you register to compete before midnight on Friday, 4/13/18!!!
2018 DMC Denver Regional DJ Battle presented by Rane in association with Mile High DJ Supply
Sunday, April 15th, 2018
Feat. DMC World Champion: Chris Karns
5pm-12am. 21+
$15 adv. http://ezregister.com/events/24467 $20 day of
Bar Standard 1037 Broadway Denver CO 80204
Judges: Shake One, Chonz and Chris Karns!
DJS MUST REGISTER TO BATTLE by answering each of the questions located HERE and send them to DMC USA's Christie Z at usa@dmcworld.com BEFORE April 13th, 2018 11:59pm EST. No walk ups. DJs can enter as many battles as they like.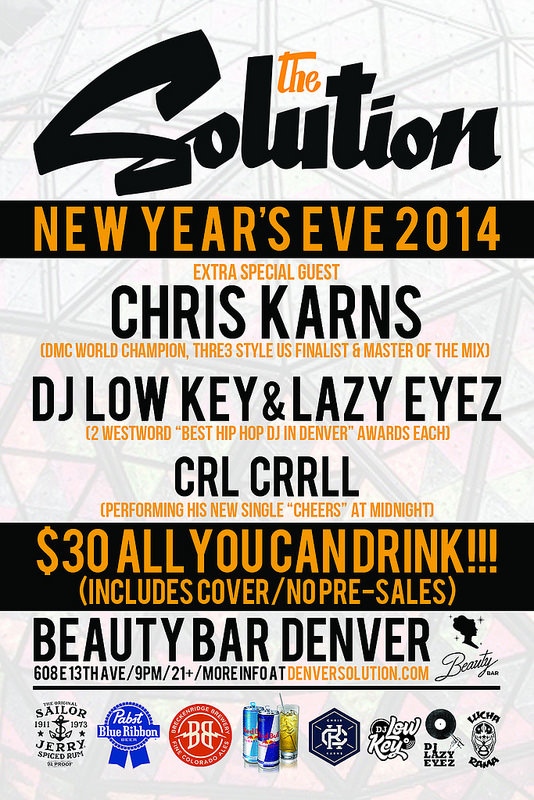 WEDNESDAY, 12/31 -> 2014 has been a banner year for The Solution w/DJ Low Key & Lazy Eyez. Everything from our record-setting weekly Friday nights at The Meadowlark to special events like our SXSW Showcase in Austin to the launch of The Solution Records and relatives of the party like Goodness w/DJ Low Key & friends and the Red Bull Sound Select shows curated by DJ Low Key & hosted by Lazy Eyez and so on have all been filled with great energy, tons of smiling faces and a genuine love of music and it's been awesome. With that said, we have one last RIDICULOUS night locked in to close out the year in grand fashion & hope you can join us!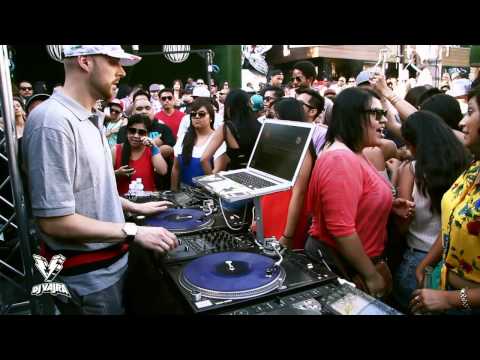 To celebrate New Year's Eve 2014, we're teaming up with world renowned DJ legend Chris Karns (Master Of The Mix Runner-Up, World DMC Champ, US Red Bull Thre3 Style Finalist), "Cheers" singer/producer CRL CRRLL (check his new video & single on The Solution Records now if you haven't already!) and the fine folks at Beauty Bar Denver to make sure 2015 gets off to a great start! Solution residents DJ Low Key & Lazy Eyez will round out a super legit lineup and we're also excited to be able to have the event include an open bar and cover for only $30 (no pre-sales so come out early), making it one of the best deals in Denver for NYE!!! Blake Jackson will be on deck taking photos, "Cheers" is Denver's New Year's anthem and you're not going to find a better lineup of DJs in town; so see you there! 608 E. 13th Ave / 9pm / 21+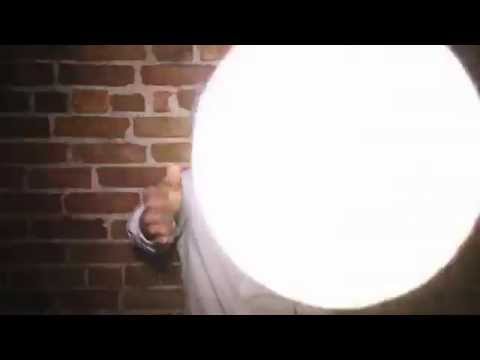 2014's been an UNBELIEVABLE year for The Solution and we're thrilled to be closing it out in grand fashion, teaming up with longtime friend of the party and one of our favorite artists in Denver, CRL CRRLL, to release "Cheers" aka the first official single from The Solution Tape #2 (finally!!!) and first release on The Solution Records (!!!!!!!). CRL's been coming to the party for almost all of the 7+ years we've been rocking and makes great music with a unique sound, so when it came time to finally get everything together for our upcoming mixtape, The Solution Tape #2, it only made sense to reach out to him for an exclusive song to feature on the project.
Over the Summer, DJ Low Key met up with CRL CRRLL for a fateful studio visit that led to "Cheers" getting picked out of a batch of incredible music for the mixtape and next thing you know everyone in Denver was loving this song that only DJ Low Key & DJ Lazy Eyez were spinning, whether they heard it at The Solution on a Friday night, saw CRL perform it live, caught it when we DJed a brunch gig or whatever. At that point, we began to realize that "Cheers" was something extra special and decided it deserved as much of a push as we could give it. That turned into us teaming up with Black Sock Productions and Jonathan Martin to shoot a video at Goodness w/DJ Low Key & friends and The Solution, which turned into us deciding that "Cheers" was so good that it needed to get full-on single push, a physical pressing (coming in early 2015!) and so on. It's funny how something can organically grow so fast, but it's great to witness and be a part of. And with that said, for your listening pleasure, we're super proud to present to you, a new celebratory anthem, right on time for New Year's Eve and all your best moments of 2015; CRL CRRLL "Cheers", the first single from The Solution Tape #2 (coming 2/2015) & first release on The Solution Records!!!!!!!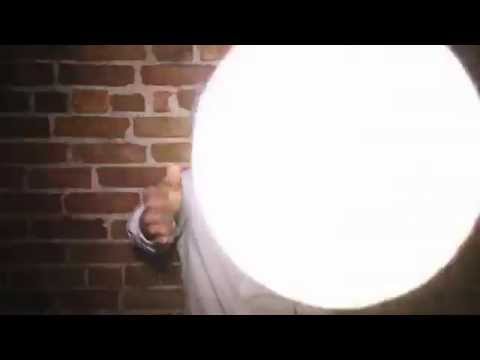 "Cheers" video directed, shot & edited by Jonathan Martin for Black Sock Productions. "Cheers" produced, written & engineered by CRL CRRLL. Video filmed on location at The Meadowlark during both The Solution w/DJ Low Key & Lazy Eyez and Goodness w/DJ Low Key & friends. Still photos by Armando Geneyro aka Knower Of The Ledge. Outro song: CRL CRRLL featuring Von Pea (of Tanya Morgan) "Cruise". Stay tuned for The Solution Tape #2 in February 2015 and CRL CRRLL's Ghostwaves double-EP in early 2015 and don't miss The Solution w/DJ Low Key & Lazy Eyez, every Friday night at The Meadowlark in Denver, CO!!!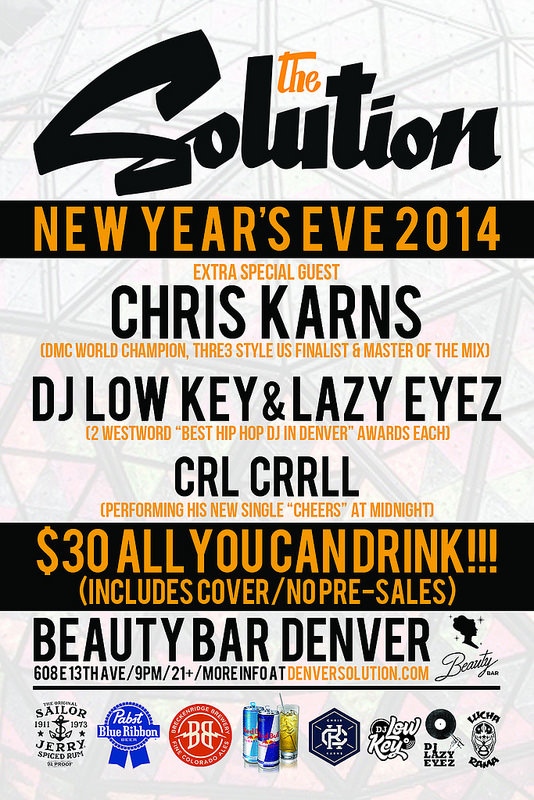 P.S. Don't forget to close out the year at The Solution's New Year Eve 2014 Party at Beauty Bar Denver, featuring a special appearance by the legendary DJ Chris Karns (World DMC Winner, US Thre3 Style Finalist & Master Of The Mix Runner Up), The Solution's own DJ Low Key & Lazy Eyez, a special "Cheers" live performance by CRL CRRLL to break in the new year & more!!!
P.P.S. In case you missed The Solution Tape #1 (chock full of exclusives and live audio from the likes of Von Pea & Donwill of Tanya Morgan, Exile & DJ Day, Kooley High, Moe Green, Mike Baker & 1 O.A.K. of The Honor Roll & a whole lot more!!!), check it out RIGHT HERE! Enjoy!!!
#CheersYou