Charley Cox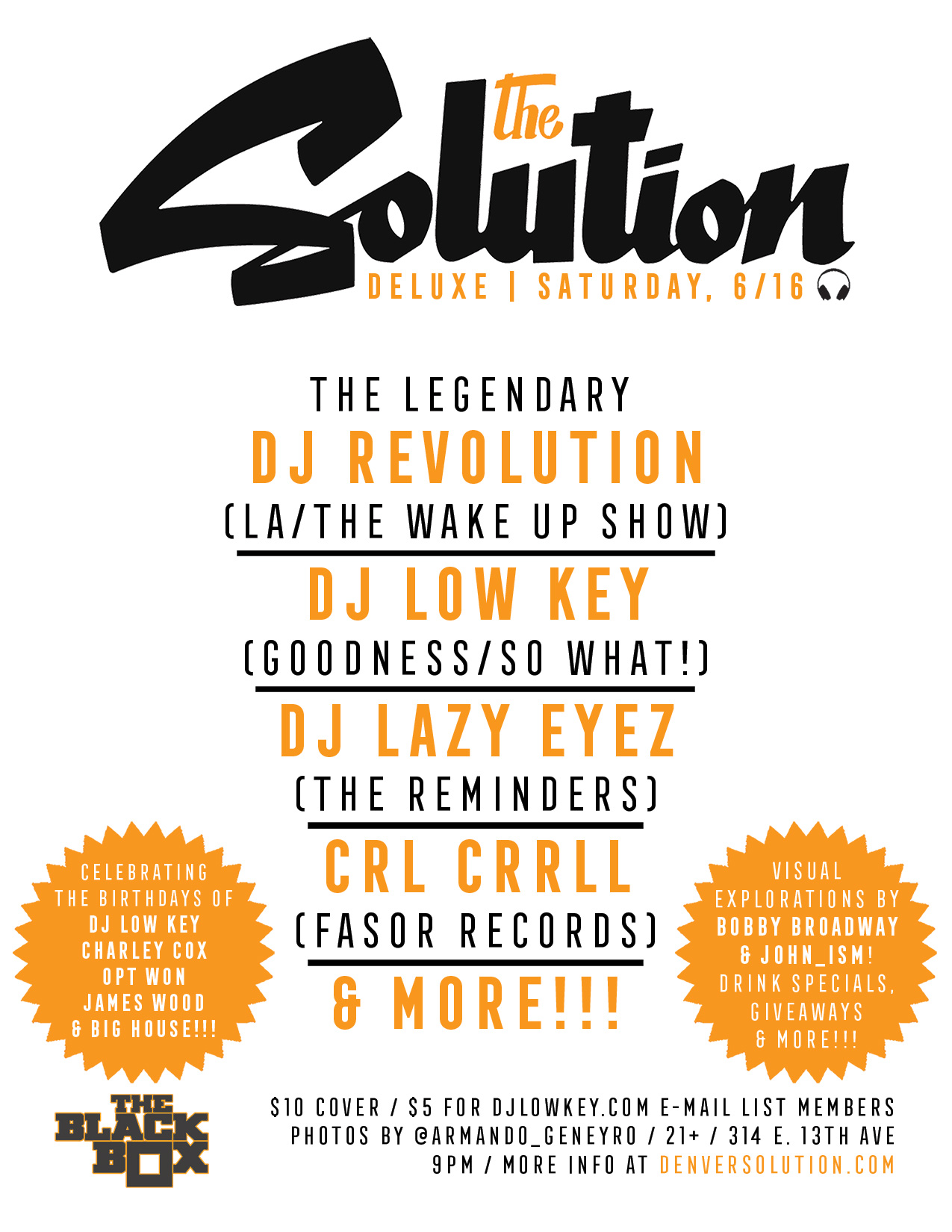 SATURDAY, 6/16 -> We're super excited to debut a new pop-up concept for The Solution called The Solution Deluxe featuring top notch special guests, The Black Box's renowned sound system for your dancing pleasure, a lot less randoms, complimentary adult Red Bull slushees and Solution patches or enamel pins for the first 50 people & more…
Featuring music from:
The legendary DJ Revolution
(Los Angeles / The Wake Up Show)
DJ Low Key
DJ Lazy Eyez
CRL CRRLL & more…
Celebrating the birthdays of:
DJ Low Key
Charley Cox
Ben Opt Won Chavez
James Wood
& MC Big House
Visual explorations by:
Bobby Broadway
& John_Ism
$10 cover / $5 for DJLowKey.com/DenverSolution.com/GDNSS.com e-mail list members. More details to come…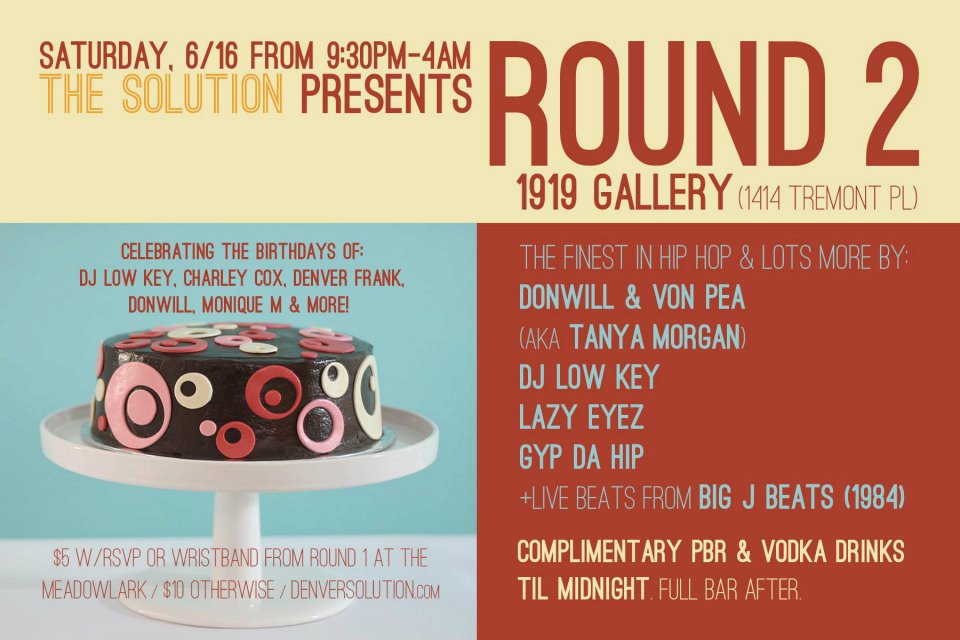 SATURDAY, 6/16 from 9:30pm-4am -> The birthday madness continues on after Goodness at the Meadowlark with Round 2 at 1919 Gallery (1414 Tremont).  We've got music by Donwill & Von Pea of Tanya Morgan (NY), DJ Low Key, Lazy Eyez, Gyp Da Hip & a live production set from Big J Beats (of 1984) to celebrate the birthdays of Charley Cox, Denver Frank, Monique M, Donwill & DJ Low Key, plus complimentary PBRs & vodka drinks til 12 (full cash bar after). $5 w/wristband from the Meadowlark or RSVP / $10 otherwise.
Also, Saturday, 6/16 from 3pm-9pm -> Birthday madness Round 1 at Goodness on the Meadowlark's patio (2701 Larimer St). Special performance from Tanya Morgan (NY), music by DJ Low Key, Sounds Supreme, Lazy Eyez & DJ Amen, Summertime fashion show by Family Affair, tacos by El Chingon and celebrating the birthdays of DJ Amen, Charley Cox, Denver Frank, Monique M, DJ Chonz, Donwill & The Solution's own DJ Low Key. No Cover/21+.
Here's a few pics of the madness at the Solution's 5th Annual Lessondary Birthday Extravaganza…More are on the way…Shouts to Donwill & Von Pea aka Tanya Morgan for hosting/performing, the June birthdays in the house (Charley Cox, MC Big House & Monique), The Hai Bar/Sushi Hai for being such a gracious host (they raved about how cool the vibe was, thanks to the cool crowd) and most importantly, everybody who came out to celebrate. The craziest thing about this annual party is that even though we're celebrating birthdays, it's not like there's some magically delicious cake or party games or even presents that make the party so much fun, it's all of the great people who come to enjoy great music.  So thanks again for all the love Denver, y'all are cool as hell!!!
Above: Donwill, DJ Low Key & Von Pea /// Below: DJ Low Key /// Top Pic: Von Pea and the crowd /// Pics courtesy of Dana Seewald