Brittney the Square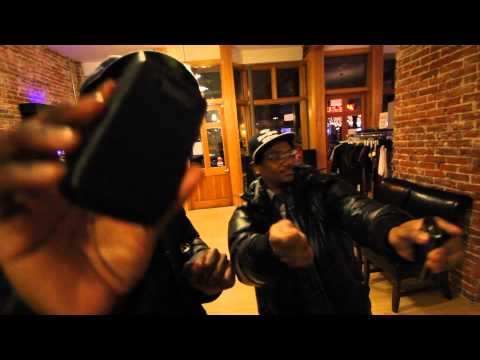 In the midst of our first Colorado tour earlier this month, we made a surprise stop at Family Affair for our 5th annual J Dilla tribute.  Our friends at Red Bull and Top Shelf Vodka blessed us with complimentary drinks, Donwill and Von Pea of Tanya Morgan came through for surprise DJ sets and a few quick verses at the end of the night and a good time was had by all in the name of James Yancey.  Family Affair threw together a little video of the night and some funny Tanya Morgan footage and we thought y'all might wanna check it.  Last but not least, special shouts to Family Affair, Brittney the Square, Red Bull, Top Shelf Vodka, Tanya Morgan & everybody who came out for a great night.
To get ready for the 4th Anniversary of the Solution on Friday, Feb. 4th, we're checking in with some of our favorite regulars and people around Denver to hear what their favorite moments from the party have been.  First up, we have R&B/soul music guru Brittney the Square and the youngest DJ in charge aka DJ Dozen sharing their top 3 Solution moments; stay tuned for more classic memories leading up to the party on 2/4.
Brittney The Square's Top 3 Solution Moments:
1. The 2010 (4th Annual) Solution J Dilla Tribute w/ Slum Village at Bar Standard:  SV is the first hip hop group that really got me listening to hip hop back in 2002.  So, to meet them and see them perform at The Solution was amazing.  Although I spent most of the night in the back corner away from the party soliciting donations for the J Dilla Foundation, the night still managed to make my top 3 list for a few reasons:  1. meeting SV and seeing them perform some of my favorite tracks 2. eating all the damn donuts (powdered and chocolate were the preference) 3. hearing tracks that I had no idea Dilla produced and buggin' out about it and of course, 4. supporting a good cause.
2.  Meeting my boyfriend at the Solution at the Funky Buddha:  It was either my first or second night ever at The Solution and I was helping out with usual stuff when Low Key introduced me to, who would later be, my future boyfriend.  When we met, we immediately got on the subject of, of course, music and our music preferences.  We talked about not only hip hop, but soul/r&b, which is my favorite.  I was impressed that he knew all of my favorite artists and I think he was impressed that I was so into and passionate about the same music as he was.  It took me awhile to really come around, but eventually I did.  Hate to admit it, but you can find love at the "club".
3.  My third favorite Solution moment doesn't have a name.  It's just those random nights dancing and vibing to good ass music with your favorite people.  That's what it's all about, right?
DJ Dozen's (yes, that's him rocking the Thugnificent look for Halloween) Top 3 Solution Moments:
1.  The first annual Solution J Dilla tribute at Milk:  I hit up the party with Dealz, Mike Lee, and Gully Gabby; it was my first time seeing midwest music embraced in CO. At the ripe age of 18, I stepped out to see what this good music was all about. I still remember sittin wit Dealz and every so often yelling "Dilla Made This Too?!?" It was def a good experience.
2.  Exile, DJ Day, Tanya Morgan and Che Grand at the Solution at the Funky Buddha:  After a long day setting up and facilitating there is nothing better that to get an unexpected crazy live show.  Coming in, I knew that DJ Day and Exile were set to perform but at no point was I ready for the Micheal Jackson Tribute or for Donwill, Von Pea and Che Grand to rip freestyles over their beats mid party!!! Crazy night but super fun!
3.  Solution moments come in a blur for some of us who attend on a regular basis, not at all because they are the same, it's more like having extra fun. Like I go out normally but the atmosphere aint like this; in the club jammin all night, with ya hands in the air, not worrying about any problems.  Of course there's drinks too, but just an overall good feeling vibe going through everybody in the building.
FRIDAY, 12/10 -> Here's the details of the Solution's first (and long overdue) tribute to the ladies, straight from our hostess, Brittney the Square: Friday, 12/10 from 9-11pm, The Solution with DJ Low Key & special guest DJ Forge (North Carolina Red Bull Thre3 Style Champ/Jukebox Heroes/Kam Moye aka Supastition's DJ), hosts Ladies First, on 3014's heated, covered rooftop patio. Ladies First caters to the women of the city with a refreshing concept – have a few drinks, get pampered, and dance to quality hip hop and R&B with your girls (Tribe Called Quest, Lupe Fiasco, Little Brother, Common, Mary J Blige, etc).   The party will feature quick stop beauty stations (nail painting, brow waxing, eye makeup application, and intimate tarot card readings), goodies, and giveaways from Denver's top beauty gurus including skin care bags to the first 50 ladies, tarot card readings, free cupcakes courtesy of The Shoppe, 2 for 1 martinis and wine, a raffle drawing of beauty products and services (sponsors include Vito Pini Salon and Spa, Makeup Artist Danica Jardien, Sinless Sun, Skin Essentials, Body Balancing Massage, Pure Barre, Ru Johnson, The Shoppe and Family Affair).   To top it all off, the event has no cover (but please be courteous and tip the ladies at the beauty stations) and an acclaimed guest DJ coming all the way across the country to spin, what more could you ask for? This is a true ladies night, don't miss it.  21+/No cover/3014 E. Colfax.
P.S. We recommend you check out some DJ Forge mixtapes for free right HERE, at DJForge.com, you'll be glad you did.