Armando Geneyro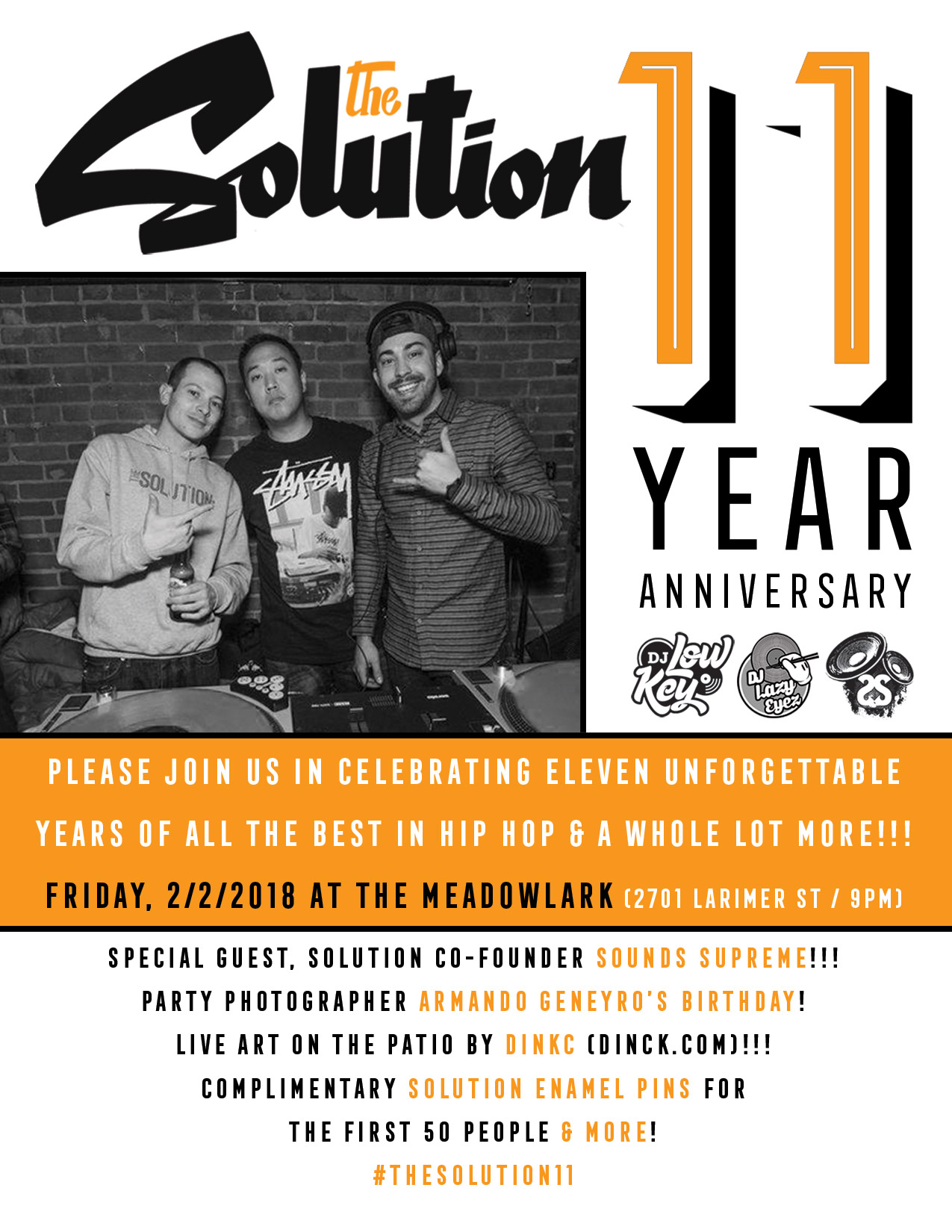 FRIDAY, 2/2/2018 -> Somehow, some way, we're eleven years deep in this shit! Since February 2nd, 2007, we've been working to make the kind of parties we'd like to go to, with the music we like and people we enjoy hanging out with and apparently, we're doing something right because it's been working for a while now. With that said, please join us in celebrating 11 years of The Solution w/DJ Low Key, Lazy Eyez & party co-founder, Sounds Supreme!!! We've got complimentary limited edition antique gold enamel Solution pins for the first 50 people, live art on the patio by Dinkc, birthday celebrations for our party photographer Armando Geneyro (of #TheyShootn) & more! Things start at 9pm at The Meadowlark (2701 Larimer St) – early arrival recommended…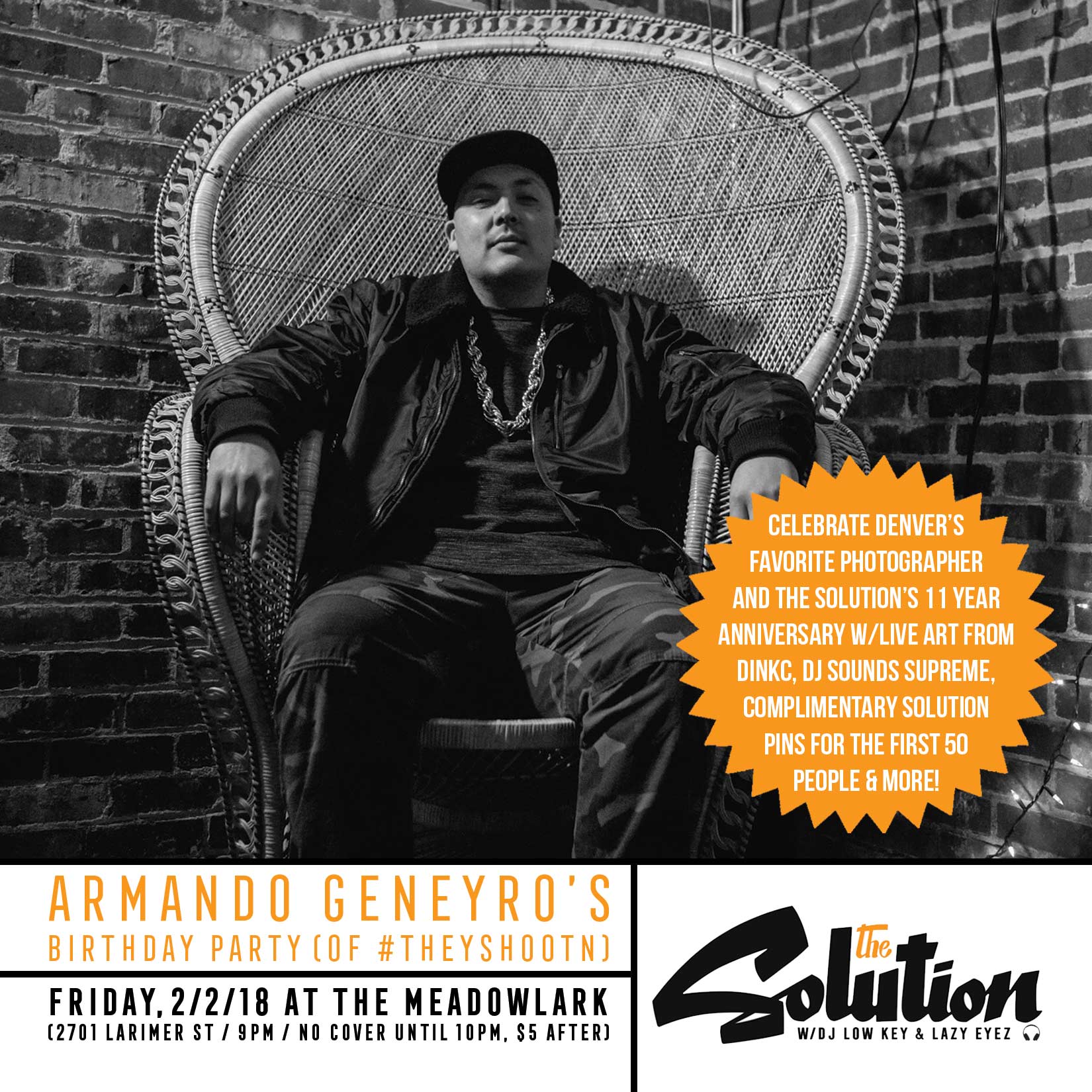 #TheSolution11
(Above photo of DJ Low Key, Lazy Eyez & Sounds Supreme by Kenneth Hamblin III for Westword, check out their full gallery HERE /// All photos below by Solution photographer Armando Geneyro aka Knower Of The Ledge)
Last month's 7 events for The Solution's seven year anniversary were ridiculously fun and we've got to give all the credit to you Denver! You beautiful (for the most part…LOL) people came out to all seven events in record numbers, rocking excellent taste in music with enthusiasm, great energy and lots of smiles and it was AMAZING!!! Check out the pics below for a taste of the month's events and check out lots more pictures on our Facebook page, our Instagram feed and in these two Westword galleries (one from our 7 Year Anniversary party & one from The 2014 Solution Beat Battle).
P.S. If you see a friend on our Facebook page or Instagram feed who hasn't been tagged, please tag them and let them know to check their out pic!
Stay tuned to our social media pages and this site for more pics from the party every week, courtesy of Solution photographer Knower Of The Ledge aka Armando Geneyro!!!
Join The Solution newsletter for details on upcoming events, free music, party photos, video & lots more!!!
Add us on Facebook…
Get more familiar with The Solution w/DJ Low Key & Lazy Eyez…
Every Friday Night: The Solution w/DJ Low Key, Lazy Eyez & friends at The Meadowlark…

All the best in hip hop & a whole lot more, every Friday night at The Meadowlark.
Party photos by IG: @Armando_Geneyro.
Beautiful heated patio.
No cover until 10pm / Only $5 after.
Facebook.Twitter.Instagram.
9pm / 21+ / 2701 Larimer St.
DJ Low Key & Sounds Supreme – The Solution Tape #1 (hosted by U-N-I & Ro Blvd)
Featuring exclusives and world premiers from Von Pea, Ilyas and Donwill of Tanya Morgan, Exile, DJ Day, Che Grand, Kooley High, Median, Donnis, Ro Blvd, Mike Baker, 1 O.A.K., Whygee, Kid Hum, 8thW1, Adad, Buff1, Waajeed, Moe Green & more. Get your copy at the Solution or download it for free by clicking the cover above.
Categories