A-L
FRIDAY, 3/22 -> All sorts of fun stuff going on at The Solution w/DJ Low Key & Lazy Eyez at the Meadowlark (2701 Larimer St) this week.  First off, we're linking up with talented CO producer/DJ A-L to celebrate his Final Vinyl release, who's gonna rock a special performance for y'all.  A-L (aka Aaron Ladley) has been steadily paying dues on the Colorado hip hop scene for years; DJing, making beats and working with the Eclipse Show, before dropping his latest project,  Future Classic Music, which features the likes of hip hop legends Ed O.G. and Craig G, exceptional NC rapper Kam Moye and well known CO artists such as Mike Wird, Fast 4Ward, MC Subcon, Niek Rocka & more.  Here's a taste of the heat he's bringing, make sure you come out early to check his set.
After A-L rocks, we're gonna give away some tickets to this year's Denver Regional DMC w/Pete Rock & Rob Swift (which takes place this Saturday, 3/23) and kick things into party mode.  DJ Low Key's back in town, fresh from throwing our ridiculous SX704 Solution Showcase down in Austin during SXSW, and he's brought a ton of great new music to spin.  Also, there's only two Fridays left to catch the acclaimed Art Of Records II show before it comes down for good, so definitely make sure you stop in the Meadowlark to see it in person (Biggie by Thomas Evans from The Art Of Records II below).  Check out the pics from the show's opening via Westword/Ken Hamblin HERE & show recap via the show's co-curator Dunn The Signtologist HERE.
Last but not least, Year of the Snake will be on-site cooking up some tasty treats (their Vietnamese XXXL wings pictured below) & Introducing w/DJ Low Key kicks off at 5pm if you're looking to get an early start on the evening.  See you then!
JUST ADDED: We found out San Francisco tastemaker DJ Meezy is gonna be in town this weekend and added him to the bill.  Meezy's a part of BlindIForTheKids.com, one of the freshest blogs online (just ask Kanye), stays playing top quality hip hop, soul & more around the Bay area and always hits up The Solution when he comes to Denver, so make that one more great reason to come out!
Shouts to each and everybody who entered this year's battle.  We got a ton of great entries, so many we had to take an extra day to give everything a few good listens and rounding out the lineup was like splitting hairs.  With that said, we're super excited about this year's lineup of top notch Colorado producers; they should make for crazy competition.  Here they are:
Marc Marcel
*To the producers who didn't get picked to participate, for a lot of y'all the problem wasn't that your beats weren't dope, it was that you submitted mellower songs for consideration.  Entering a beat battle with mellow beats is always going to be tough and while not impossible, it does handicap your chances a lot from the jump.
Here's the rest of the info on the event in case you missed the original post: WEDNESDAY, 2/27 -> It's that time of year again.  #TheSolution6 is in full effect and The Solution Beat Battle is back for another year of ridiculous chops, club bangers, head nodders, face scrunchers, and all the other great varieties of beats you hear producers pull out for battles.  Just like last year, a dozen of Denver's top producers will face off head to head to see who has the best beats in town for prize package including studio time at Denver's premier record facility, Side 3 Studios, a $200 gear package from Acrylick, a paid guest feature at an upcoming Solution Showcase & more TBA.  As if hearing a dozen of Colorado's top producers show off their A-game wasn't enough, we've also packed out the bill with some amazing talent, check out the battle's guest lineup:
Dag Savage (aka MPC mastermind Exile & MC Johaz)
2012 Beat Battle winner BK Beats (read his recap of it here)
Incredible one man band/DJ/singer/etc Fast Forward
CO production legend Boonie Mayfield on co-hosting duties
DJ Low Key & Sounds Supreme on the turntables & more
Beauty Bar Denver (608 E. 13th St) / 9pm / 21+ / $10 Cover.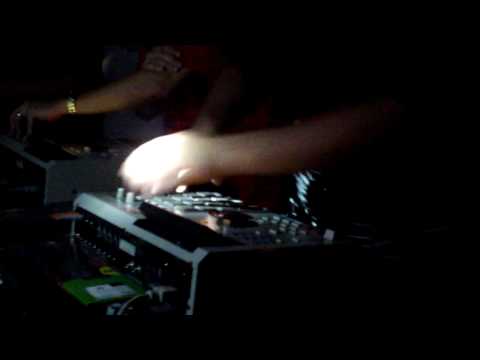 Above: Some footage of Exile's set from his last Solution guest spot.