REMINDER: The Walnut Room is significantly smaller than previous spots we've held the DMC at and we HIGHLY RECOMMEND getting a pre-sale ticket ahead of time, as there's a very good chance the event will sell out. If it does sell out and we hit capacity, there's nothing that me, DJ Lazy Eyez or the DJs competing can do to get you in, so please keep that in mind and grab a ticket sooner rather than later if you're looking to check out the event.
Gonna be RIDICULOUS night, can't wait to see what the battle, DJ Revolution and Chris Karns have in store for us!!!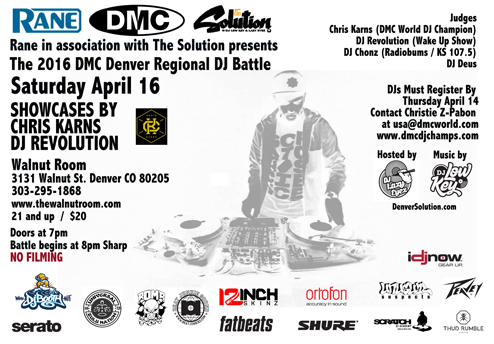 Leave a comment
Join The Solution newsletter for details on upcoming events, free music, party photos, video & lots more!!!
The Solution x Spotify Weekly Playlists…
Add us on Facebook…
Get more familiar with The Solution w/DJ Low Key & Lazy Eyez…
Categories