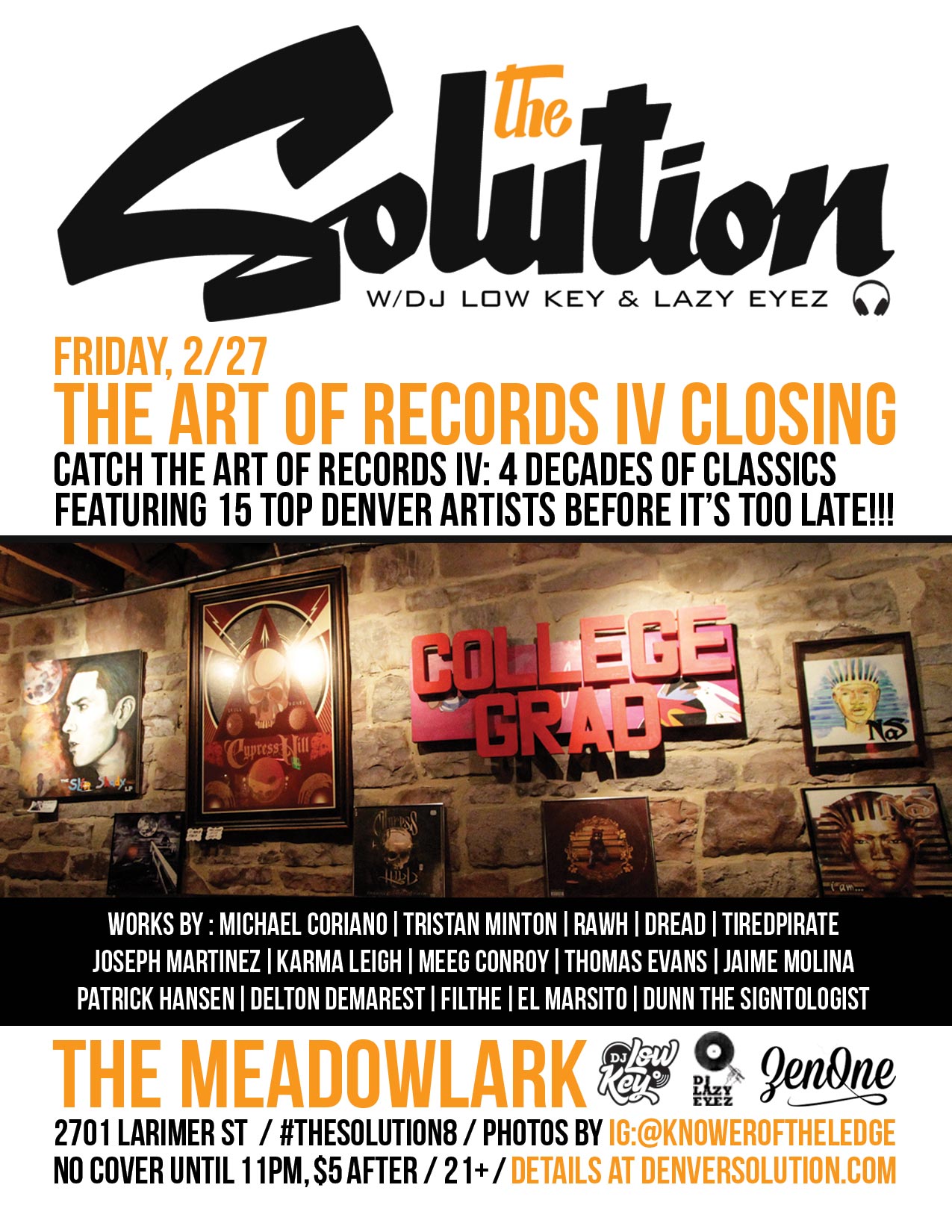 FRIDAY, 2/27 -> Don't miss your last chance to check out The Art Of Records IV: 4 Decades Of Classics at The Meadowlark, featuring an all-star lineup of 15 Denver favorites re-imagining hip hop album art from the 80s, 90s, 00s and today's modern classics. The show opened to rave reviews on 2/6/15 and with a fantastic lineup of artists, you definitely don't want to miss a chance to check out its closing party at The Solution! Here's the ridiculously talented cast of artists involved:
Patrick Hansen
Delton Demarest
Filthe
El Marsito
Dunn The Signtologist
Rawh
Dread
TiredPirate
Tristan Minton
Karma Leigh
Meeg Conroy
Thomas Evans
Jaime Molina
Michael Coriano
Joseph Martinez
As usual, your Solution residents DJ Low Key & DJ Lazy Eyez will be rocking all the best in hip hop and everything else on the turntables, Knower Of The Ledge aka Armando Geneyro will be taking party photos, ZenOne will be in the building & more for another super fun Friday night at The Meadowlark!!! 9pm / No cover until 11pm / 21+ / 2701 Larimer Street.
#TheSolution8
Leave a comment
Join The Solution newsletter for details on upcoming events, free music, party photos, video & lots more!!!
Add us on Facebook…
The best club night in Denver (c) Westword 2010 & the people…
Every Friday Night: The Solution w/DJ Low Key, Lazy Eyez & friends at the Meadowlark…
The best in hip hop & a whole lot more.
Complimentary photo booth.
Food by Year Of The Snake.
Beautiful patio.
No cover until 11 / Only $5 after.
Facebook
.
Twitter
.
Tumblr
.
9pm / 21+ /
2701 Larimer St
.
The Solution named "Best Club Night Return" in Westword 2013 Best Of Denver…


At this point, the Solution is well on its way to becoming a Denver institution. But it isn't just our town's longest-running and most revered hip-hop night — it's also a testament to quality and resilience. Despite having moved virtually all over town since it was founded half a dozen years ago by DJs Low Key and Sounds Supreme, the Solution continues to draw a faithful crowd wherever — and however — it goes. Even after the Solution took a hiatus from weekly parties, the Solution crew continued to offer showcases featuring a parade of the best local MCs and producers, along with lauded acts from elsewhere. And last month, when the Solution returned to a weekly format at its new home at the Meadowlark, all was right in the cosmos again. - Westword
DJ Low Key & Sounds Supreme – The Solution Tape #1 (hosted by U-N-I & Ro Blvd)
Featuring exclusives and world premiers from Von Pea, Ilyas and Donwill of Tanya Morgan, Exile, DJ Day, Che Grand, Kooley High, Median, Donnis, Ro Blvd, Mike Baker, 1 O.A.K., Whygee, Kid Hum, 8thW1, Adad, Buff1, Waajeed, Moe Green & more. Get your copy at the Solution or download it for free by clicking the cover above.
Categories