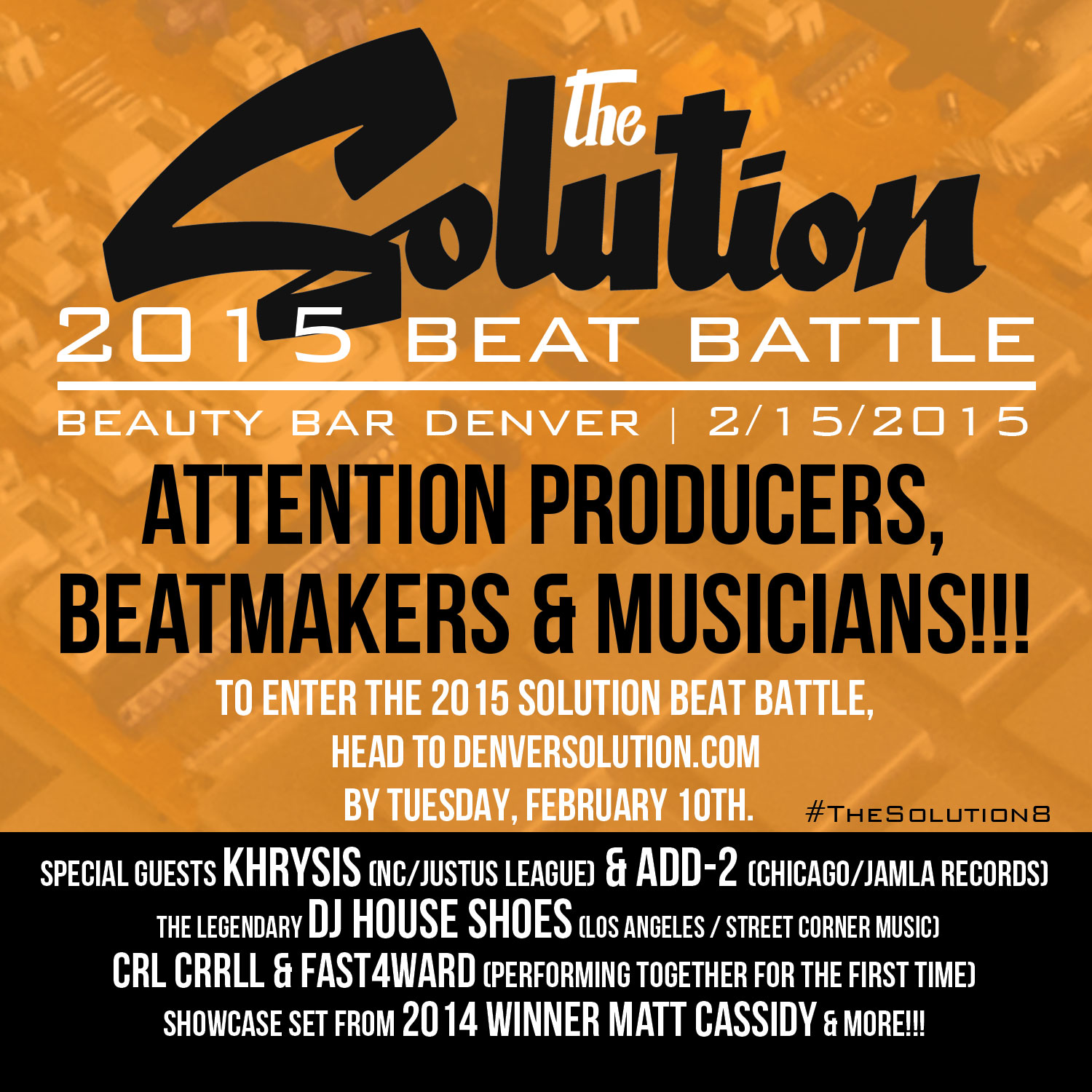 Producers, beatmakers, musicians & such, if you'd like to enter The 2015 Solution Beat Battle, here's what you need to do by midnight on Tuesday , 2/10.  Please send either:
-A soundcloud link to 3+ of your beats
or
-An e-mail with 3 beats attached
or
-A streaming link to a project you produced
and
-a photo of yourself (to be posted when the competitors are announced)
and
-a short bio
to:
thesolutionbeatbattle <at> denversolution (dot) com
No application fee necessary.  Once again, the submission deadline is Tuesday, 2/10 at midnight.  Participants will be announced on Wednesday, 2/11 by midnight. More info, prizes & headliners announcements coming next week, check out previous Solution Beat Battles for more info.
Leave a comment
Join The Solution newsletter for details on upcoming events, free music, party photos, video & lots more!!!
The Solution x Spotify Weekly Playlists…
Add us on Facebook…
Every Friday Night: The Solution w/DJ Low Key, Lazy Eyez & friends at The Black Box…

All the best in hip hop, R&B and lots more, every Friday night at The Black Box.
Party photos by IG: @Armando_Geneyro.
No cover until 10pm / Only $5 after.
Facebook.Twitter.Instagram.
9pm / 21+ / 314 E 13th Ave.
Get more familiar with The Solution w/DJ Low Key & Lazy Eyez…
Categories