Curated by The Solution's own DJ Low Key. Hosted by The Solution own DJ Lazy Eyez. Featuring two of the best acts in the state, FL & The Reminders, and the legendary Bun B!!! Details on the show from djlowkey.com:
.:Make sure you RSVP for $5 admission at RedBullSoundSelect.com:.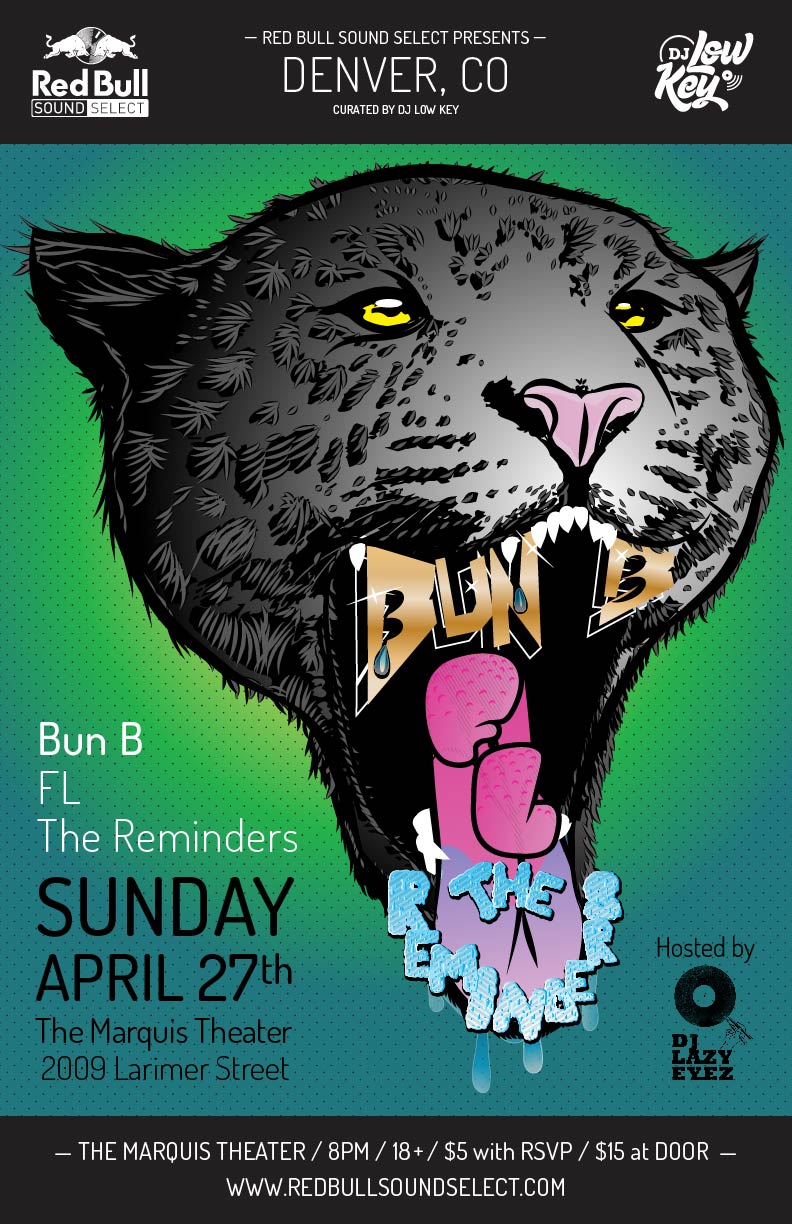 In one of the most exciting developments of an already amazing 2014, I'll be curating a series of Red Bull Sound Select shows here in Denver! What does that mean, exactly? It means that every few months this year, I'll be throwing shows with top national talent and the best of Denver's local scene, all around the city! My first RBSS show is features the legendary Bun B, Denver favorite FL and CO all-stars The Reminders, with Lazy Eyez & myself hosting and rocking the turntables at The Marquis Theater!!!
It's gonna be an honor to bring Houston's honorary mayor and half of pioneering Texas duo UGK (RIP Pimp C), Bun B, out to Denver for a show. As far as I know, he hasn't been out in Denver since the DNC in 2008 and hasn't had a public show out here that I can think of; so make sure you save the date and don't miss a rare chance to see a living legend live and in the flesh. Bun will be joined by The Foodchain's FL, who's probably my all-time favorite rapper to come out of Denver, based on his work on the three stellar Foodchain albums and his ridiculously good solo debut, Limbo. FL & Bun will be joined by The Reminders (aka Big Samir & Aja Black), a rare husband and wife rap duo who's been traveling the country, garnering tons of attention and props from Hiero Day in the Bay to London, England to the Kennedy Center in Washington with their thoughtful brand of hip hop. Me & Lazy Eyez will be rounding out the bill, doubling up between the turntables and hosting duties for what should be a classic night hip hop in The Mile High City.
Things get started at 8pm and with the lineup we've got, things should be packed. To make things better, you can RSVP at RedBullSoundSelect.com for $5 entry to the show (that's right, only $5!!! It's still first come, first serve til we hit capacity) and access to to some great music, videos and more online. Otherwise, it's still quite a deal of show at $15 (just make sure you show up early, because being ready to pay a heftier cover does you no good at a sold out show). Last but not least, huge shouts to artist Michael Coriano on the incredible flyer design! 18+/8pm/2009 Larimer St.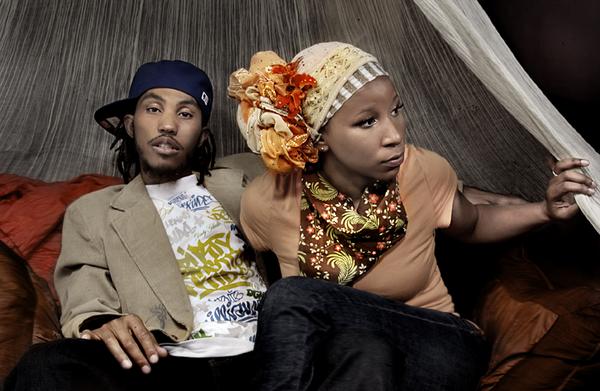 .:RSVP for $5 admission HERE:.
P.S. Stay tuned for more great monthly Red Bull Sound Select shows and new music in Denver, curated by myself, Holy Underground, Souls In Action & The UMS, all year long!!!