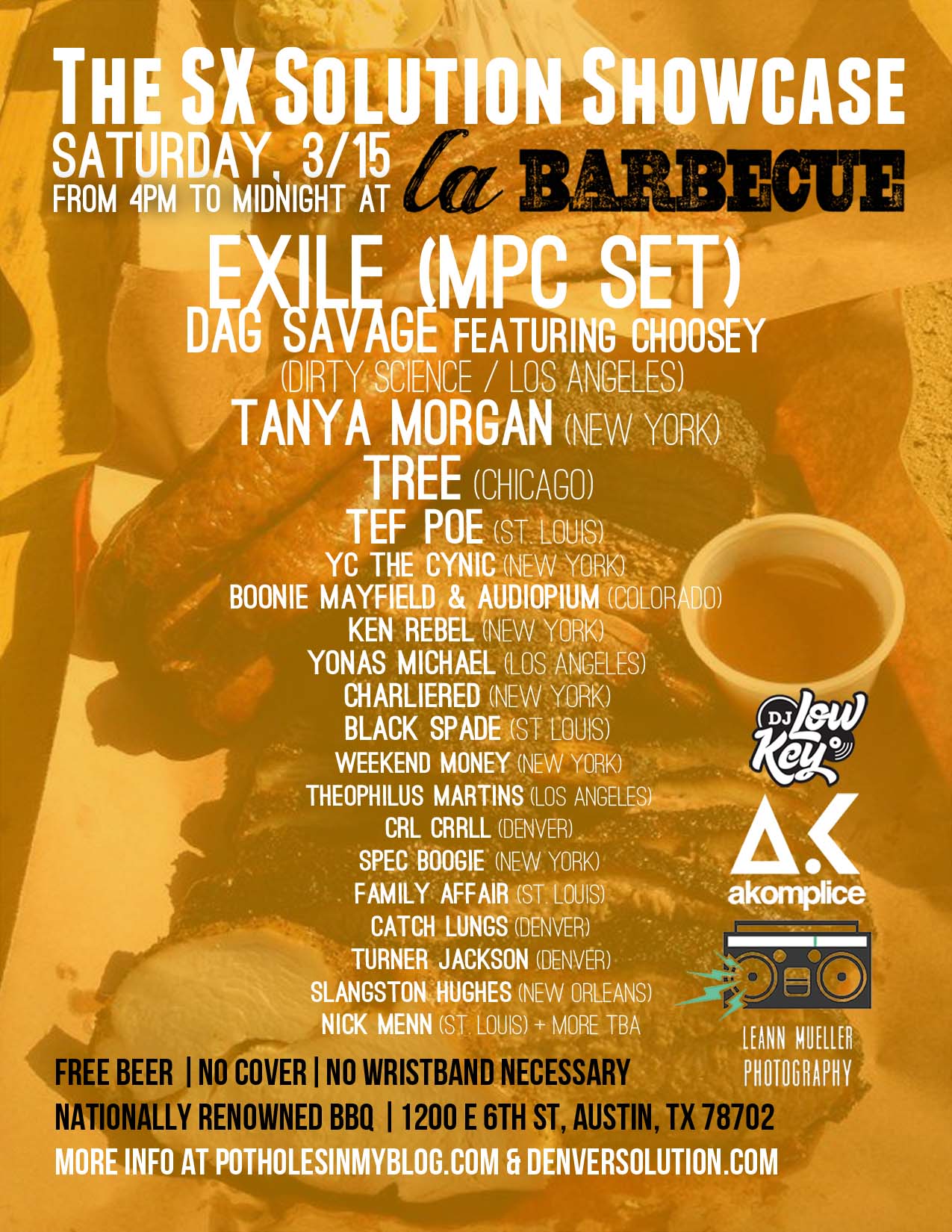 SATURDAY, 3/15 from 4pm to midnight -> It's that time of year again, things are warming up, it's feeling like spring break and we're beyond excited to announce this year's SX Solution Showcase at La Barbecue (recently named the #13 new restaurant in the entire country by GQ Magazine, and it was pretty much the only one that wasn't over the top fancy)!!! We've teamed up with one of our favorite music blogs/sites, Potholes In My Blog, our good friends at Akomplice Clothing and the one and only Leann Mueller Photography to build on last year's unforgettable SX704 Solution Showcase and feature even more amazing talent from all over the country. And oh yeah, free beer all day with no cover, RSVPs or wristbands necessary to get in. So with no further delay, take a look at the ridiculous lineup for the party:
Exile + Dag Savage featuring Choosey (Dirty Science / Los Angeles)
Tanya Morgan (New York)
Tree (Chicago)
Tef Poe (St. Louis)
YC The Cynic (New York)
Boonie Mayfield & Audiopium (Colorado)
Yonas Michael (Los Angeles)
Black Spade (St Louis)
Weekend Money (New York)
Theophilus Martins (Los Angeles)
CRL CRRLL (Denver)
Spec Boogie (New York)
Family Affair (St. Louis)
Catch Lungs (Denver)
Nick Menn (St. Louis)
JUST ADDED:
Ken Rebel (New York)
CharlieRED (New York)
Turner Jackson (Denver)
Slangston Hughes (New Orleans)
Bodega Brovaz (Dallas)
+ more TBA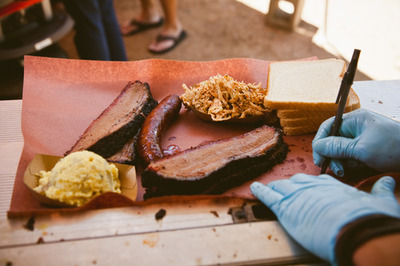 While Austin's known for BBQ and there are many exceptional establishments in town, La Barbecue has a more renowned pedigree and pitboss than almost any spot in Texas (the yelp reviews explain things well here) and is generally considered to run neck and neck with Franklin's (the one from the current Mastercard commercial with Chef Nobu) for the #1 spot in the Austin/regional BBQ hierarchy. Here's a little more about La Barbecue:
"After one bite, I was convinced this is the best brisket in existence." – AustinFoodstyle.com.
"His name may not (yet) carry the same level of recognition as Aaron Franklin or John Mueller, but make no mistake, John Lewis makes some of the best barbecue not just in Austin but in the state of Texas. From his massive handcrafted smoker on South First Street, Lewis produces tender, subtly smoky brisket with a bark that doesn't get carried away with its bite. And his pulled pork has no peer in town." – Austin360.com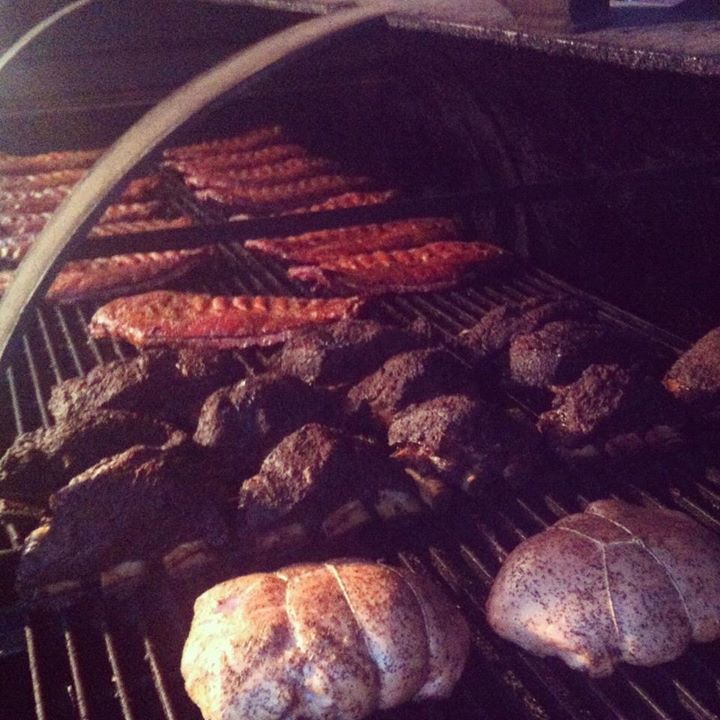 P.S. If you came out to last year's event, please note that La Barbecue has moved locations & they're now much more conveniently located on 1200 E 6th St, right around the corner from the Fader Fort.