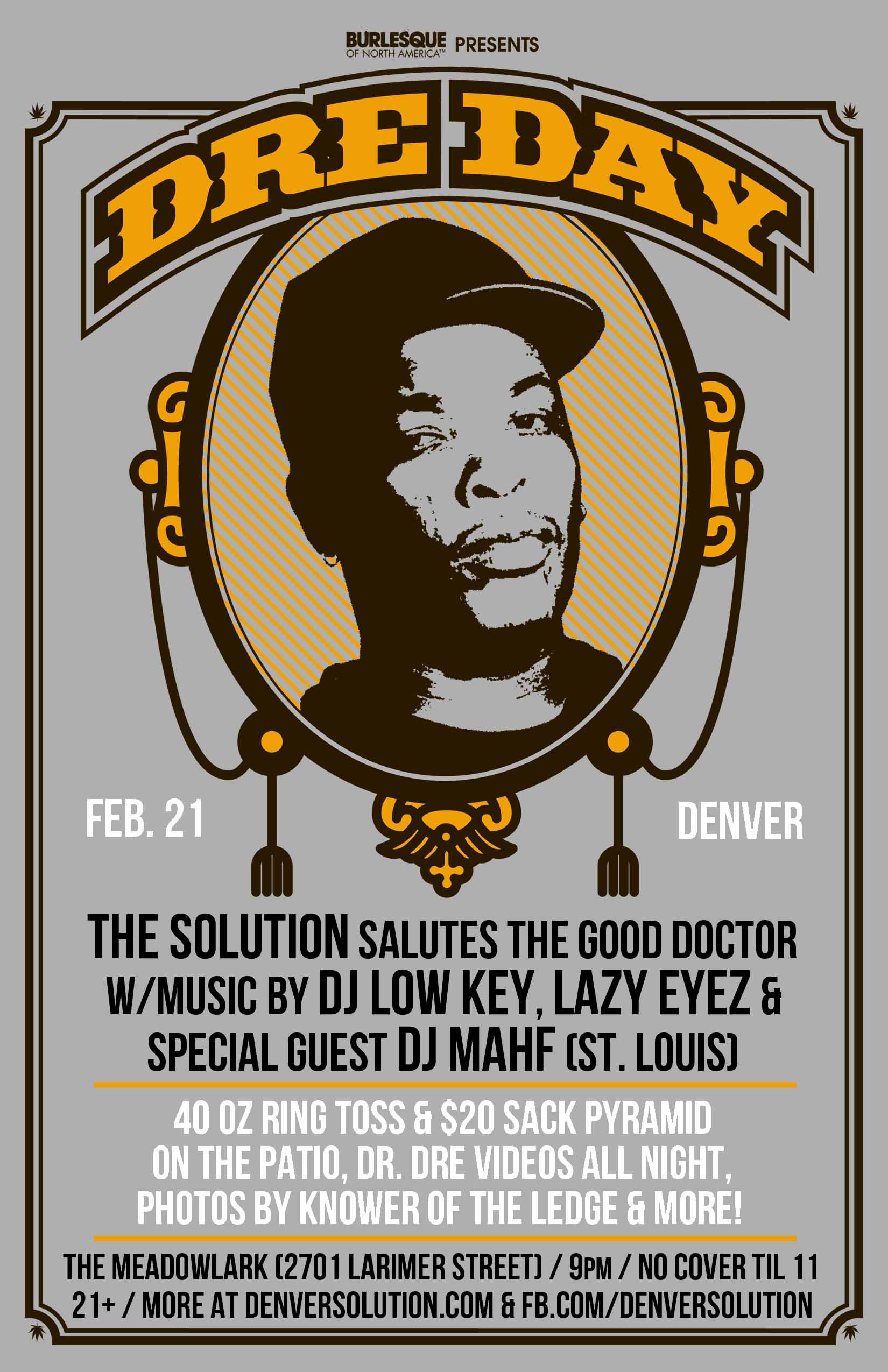 FRIDAY, 2/21 -> Don't ever act like you forgot about Dre. It's that time of year again and The Solution's excited to be partnering up with the national Dre Day movement (started by Mike 2600 & crew in Minneapolis) to celebrate the good Doctor Andre Young aka Dr. Dre in grand fashion at The 2nd Annual Denver Dre Day. We'll be bringing in special guest and former St. Louis Red Bull Thre3 Style Champ DJ Mahf to join DJ Low Key & Lazy Eyez in spinning all the best Dr. Dre songs, production, remixes, features, samples and so on, all night long.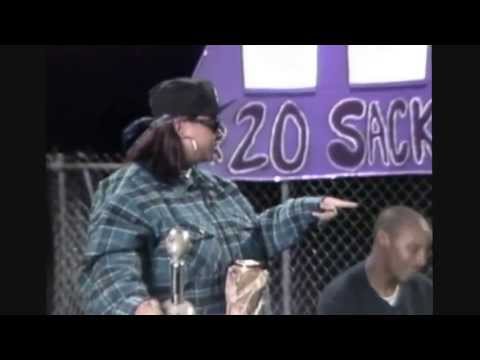 The music is guaranteed to be the chronic, but we'll also be featuring 40 oz ring toss and The $20 Sack Pyramid games on the patio, Dre videos all night long and photos by Knower Of The Ledge to add to the fun. Things get started at 9pm and with so much incredible music to cover, we highly recommend you show up early. 2701 Larimer St / 21+ / No cover until 11, only $5 after.  More info on the party on Facebook/Twitter/Tumblr/Instagram.
Leave a comment
Join The Solution newsletter for details on upcoming events, free music, party photos, video & lots more!!!
Add us on Facebook…
The best club night in Denver (c) Westword 2010 & the people…
Every Friday Night: The Solution w/DJ Low Key, Lazy Eyez & friends at the Meadowlark…
The best in hip hop & a whole lot more.
Complimentary photo booth.
Food by Year Of The Snake.
Beautiful patio.
No cover until 11 / Only $5 after.
Facebook
.
Twitter
.
Tumblr
.
9pm / 21+ /
2701 Larimer St
.
The Solution named "Best Club Night Return" in Westword 2013 Best Of Denver…


At this point, the Solution is well on its way to becoming a Denver institution. But it isn't just our town's longest-running and most revered hip-hop night — it's also a testament to quality and resilience. Despite having moved virtually all over town since it was founded half a dozen years ago by DJs Low Key and Sounds Supreme, the Solution continues to draw a faithful crowd wherever — and however — it goes. Even after the Solution took a hiatus from weekly parties, the Solution crew continued to offer showcases featuring a parade of the best local MCs and producers, along with lauded acts from elsewhere. And last month, when the Solution returned to a weekly format at its new home at the Meadowlark, all was right in the cosmos again. - Westword
DJ Low Key & Sounds Supreme – The Solution Tape #1 (hosted by U-N-I & Ro Blvd)
Featuring exclusives and world premiers from Von Pea, Ilyas and Donwill of Tanya Morgan, Exile, DJ Day, Che Grand, Kooley High, Median, Donnis, Ro Blvd, Mike Baker, 1 O.A.K., Whygee, Kid Hum, 8thW1, Adad, Buff1, Waajeed, Moe Green & more. Get your copy at the Solution or download it for free by clicking the cover above.
Categories