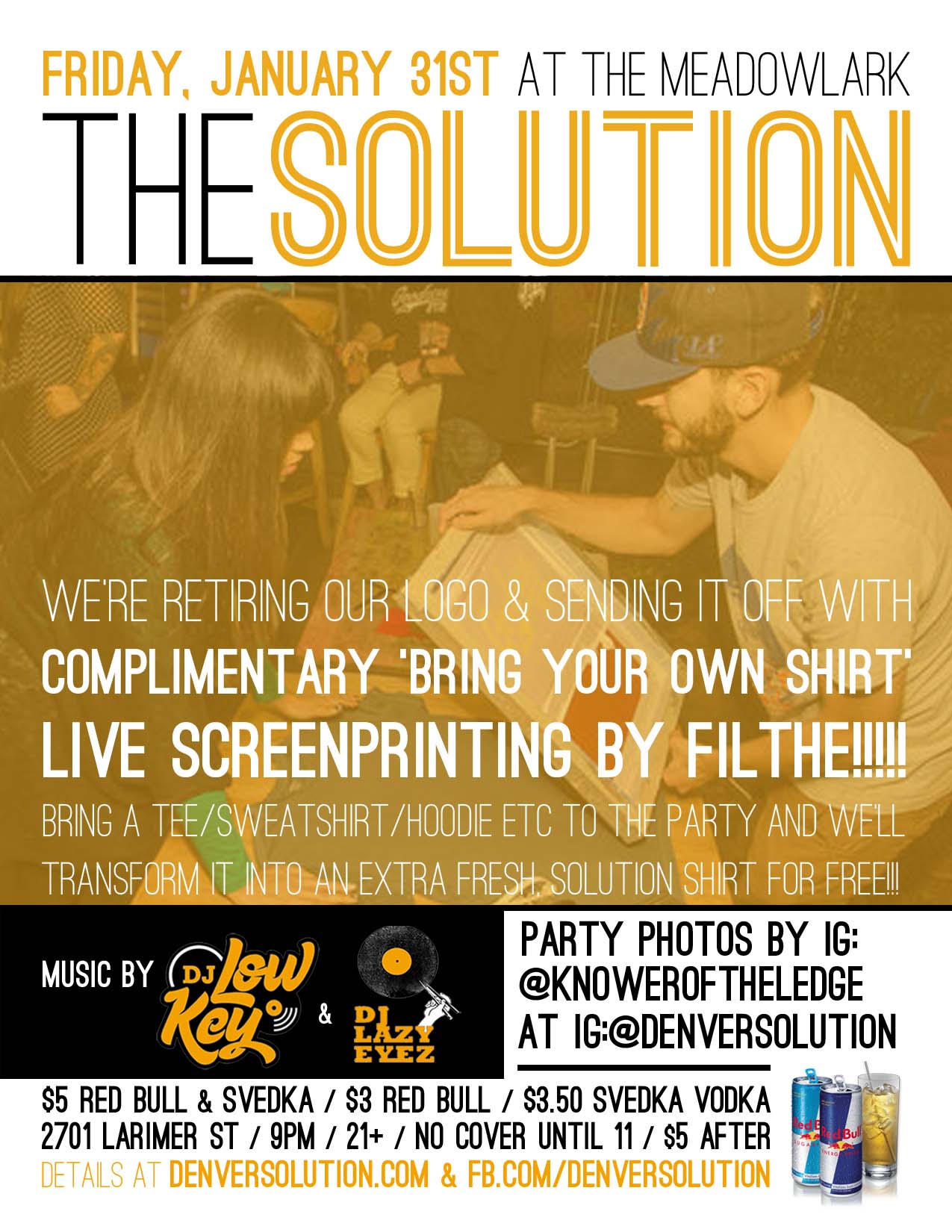 FRIDAY, 1/31 -> To commemorate the logo we've been using for the last few years, we're having Gabe "Filthe" Parra come in to do complimentary 'bring your own shirt' screenprinting as we bid it a fond farewell!  What does that mean?  It means you can bring in a blank shirt to the party and we'll turn it into a fresh, Solution logo tee on the spot, for free!!!  The live screenprinting was a huge hit last time around (at 2013's final Goodness), check the video of Filthe at Goodness HERE.
Solution residents DJ Low Key & Lazy Eyez will be spinning, Knower Of The Ledge will be taking party pics & we'll retire the logo in style at "Denver's best hip hop party" (c) Dear Denver, come rock with us!  2701 Larimer St / 9pm / 21+ / No cover until 11, only $5 after.  More info on the party on Facebook/Twitter/Tumblr/Instagram.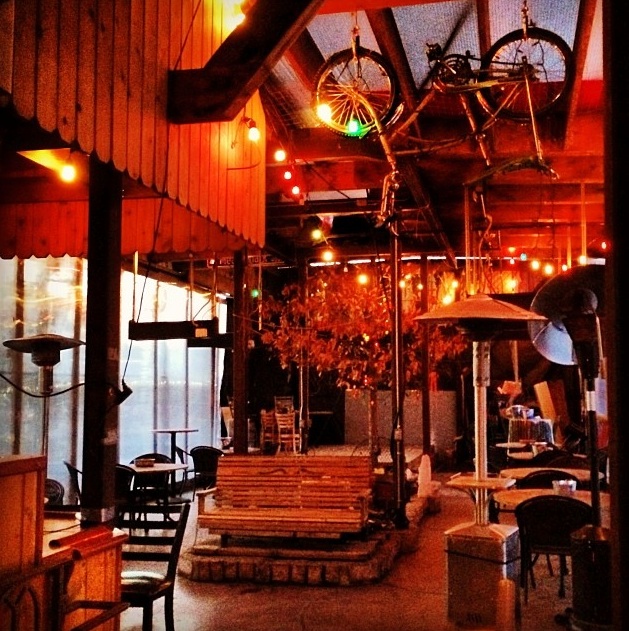 P.S. In case you hadn't heard, the Meadowlark recently enclosed more of their patio for the Winter & added some extra heaters, making it perfect for smoke breaks, taking a breather from the dance party inside and/or getting a quick drink from the outside bartender.
Leave a comment
Join The Solution newsletter for details on upcoming events, free music, party photos, video & lots more!!!
Add us on Facebook…
Get more familiar with The Solution w/DJ Low Key & Lazy Eyez…
Every Friday Night: The Solution w/DJ Low Key, Lazy Eyez & friends at The Meadowlark…

All the best in hip hop & a whole lot more, every Friday night at The Meadowlark.
Party photos by IG: @Armando_Geneyro.
Beautiful heated patio.
No cover until 10pm / Only $5 after.
Facebook.Twitter.Instagram.
9pm / 21+ / 2701 Larimer St.
DJ Low Key & Sounds Supreme – The Solution Tape #1 (hosted by U-N-I & Ro Blvd)
Featuring exclusives and world premiers from Von Pea, Ilyas and Donwill of Tanya Morgan, Exile, DJ Day, Che Grand, Kooley High, Median, Donnis, Ro Blvd, Mike Baker, 1 O.A.K., Whygee, Kid Hum, 8thW1, Adad, Buff1, Waajeed, Moe Green & more. Get your copy at the Solution or download it for free by clicking the cover above.
Categories