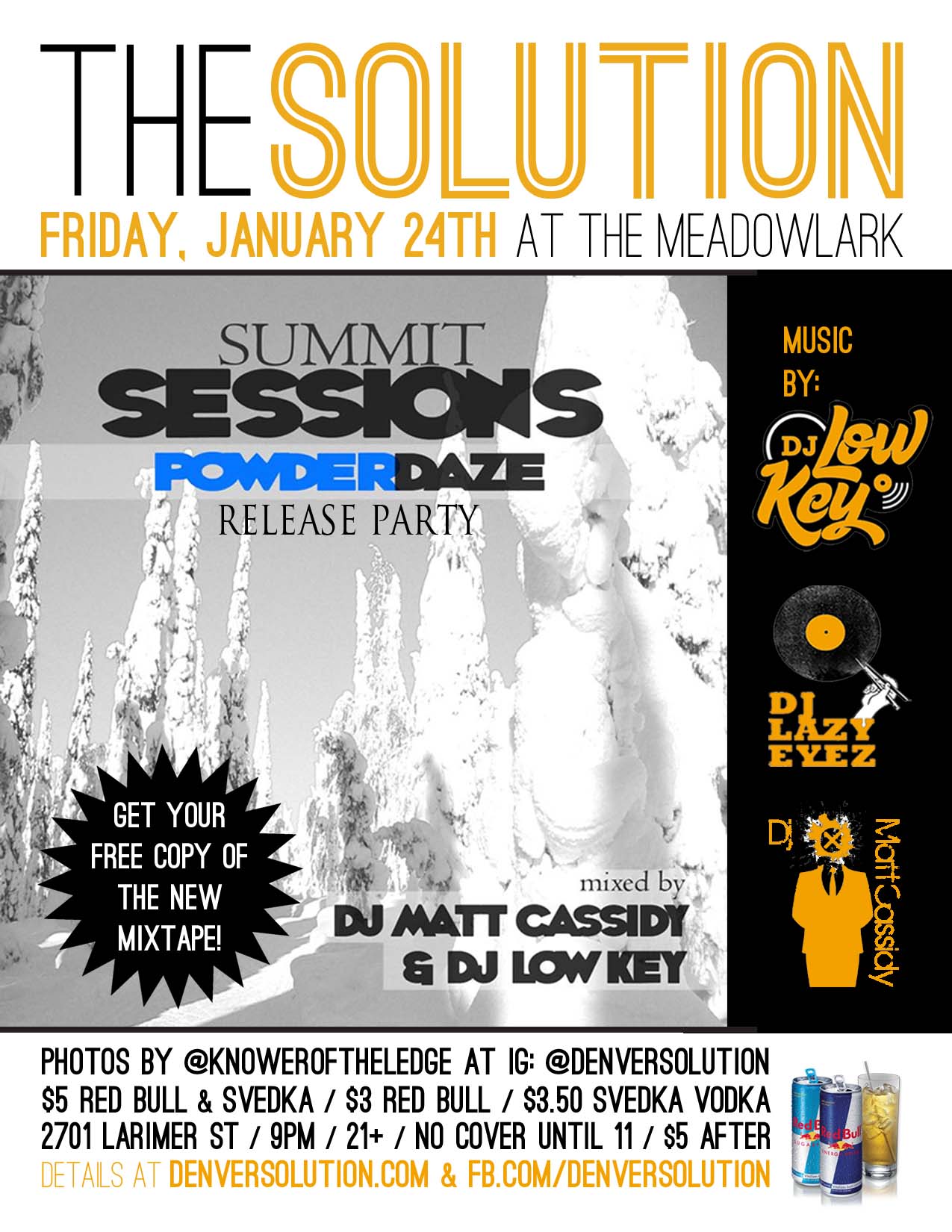 FRIDAY, 1/24 -> With the snowboard/ski season in full swing, it's only right for DJ Matt Cassidy to drop his annual Summit Sessions mixtape for your riding pleasure.  This year, The Solution's own DJ Low Key contributed to half the mix and we're celebrating it this Friday by giving away 100 free copies of the mixtape!  That's right, swing through, get a free copy and catch Solution residents DJ Low Key & Lazy Eyez plus special guest DJ Matt Cassidy rocking on the turntables.  Knower Of The Ledge will be in the spot taking top notch party photos, the vibe will be right and good times will be had by all at "Denver's best hip hop party" (c) Dear Denver, come rock with us!  2701 Larimer St / 9pm / 21+ / No cover until 11, only $5 after.  More info on the party on Facebook/Twitter/Tumblr/Instagram.
P.S. In case you hadn't heard, the Meadowlark recently enclosed more of their patio for the Winter and added some extra heaters, making it perfect for your smoke breaks, taking a breather from the dance party inside and/or getting a quick drink from the outside bartender.
Leave a comment
Join The Solution newsletter for details on upcoming events, free music, party photos, video & lots more!!!
Add us on Facebook…
Get more familiar with The Solution w/DJ Low Key & Lazy Eyez…
Every Friday Night: The Solution w/DJ Low Key, Lazy Eyez & friends at The Meadowlark…

All the best in hip hop & a whole lot more, every Friday night at The Meadowlark.
Party photos by IG: @Armando_Geneyro.
Beautiful heated patio.
No cover until 10pm / Only $5 after.
Facebook.Twitter.Instagram.
9pm / 21+ / 2701 Larimer St.
DJ Low Key & Sounds Supreme – The Solution Tape #1 (hosted by U-N-I & Ro Blvd)
Featuring exclusives and world premiers from Von Pea, Ilyas and Donwill of Tanya Morgan, Exile, DJ Day, Che Grand, Kooley High, Median, Donnis, Ro Blvd, Mike Baker, 1 O.A.K., Whygee, Kid Hum, 8thW1, Adad, Buff1, Waajeed, Moe Green & more. Get your copy at the Solution or download it for free by clicking the cover above.
Categories