Denver, meet ATLien Spree Wilson.  We first heard of Spree a few years back when he dropped "Word!" with one of his mentors No I.D. (video below) because well, we'll check out anything No I.D. produces based on his work with Common, Jay-Z and such, not to mention the mentoring of his most infamous protege, Kanye West.  It took me a minute to get used to Spree's voice and No I.D.'s strangely electronic beat but it grew on me, just as I was hearing other work of his pop up on albums/mixtapes with Novel and DJ Deckstream and realizing the full on scope of dude's talent.  From there we heard a few more solo joints, "Pick You Apart" and some leaks from his critically acclaimed The Never Ending Now project which became staples in DJ sets at The Solution and while Low Key DJed at Guess.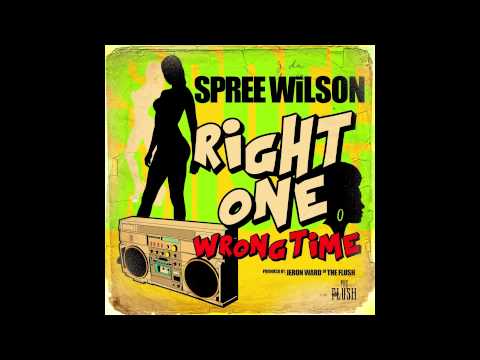 Above: "Right One, Wrong Time", one of our 2012 favorites.  /// Below: Very dope video for Spree Wilson feat Novel "King Sh*t (The Answer)".
Next thing I know I'm seeing Q-Tip shouting out Spree Wilson left and right, mentioning they're working together some and talk of Spree linking up with the likes of Outkast producers extraordinaires Organized Noise and The Flush, as well as G.O.O.D. music.  Spree did in fact link up with Kanye and crew, with writing credits on the Cruel Summer album plus six more yet to be released songs (!!!!!), as well as getting some work on the upcoming Cee-Lo and Theophilus London projects.  Then just a few weeks back, Spree dropped the ATL-bass inspired super JAM, "Right One, Wrong Time", that we can't stop playing, making now a great time to have him out for The Solution Showcase.
Above: Spree Wilson "Word!" (produced by No I.D.) /// Below: "Sin City", John Legend, Travis Scott, Teyana Taylor, CyHi Da Prynce & Malik Yusef "Sin City", co-written by Spree Wilson.
So now that you're up on Spree Wilson, we probably don't need to remind you that Saturday, 12/22 is your monthly chance to see a top notch talent in an award-winning intimate venue before they blow up, right?  Catch Spree making his Denver debut, along with CO production legend Boonie Mayfield, Fresh Breath Committee's Fo Chief, eclectic producer/DJ Neon Brown and all three Solution DJs; DJ Low Key, Sounds Supreme & Lazy Eyez for The Solution Showcase #11 on 12/22 at the Meadowlark (2701 Larimer St).