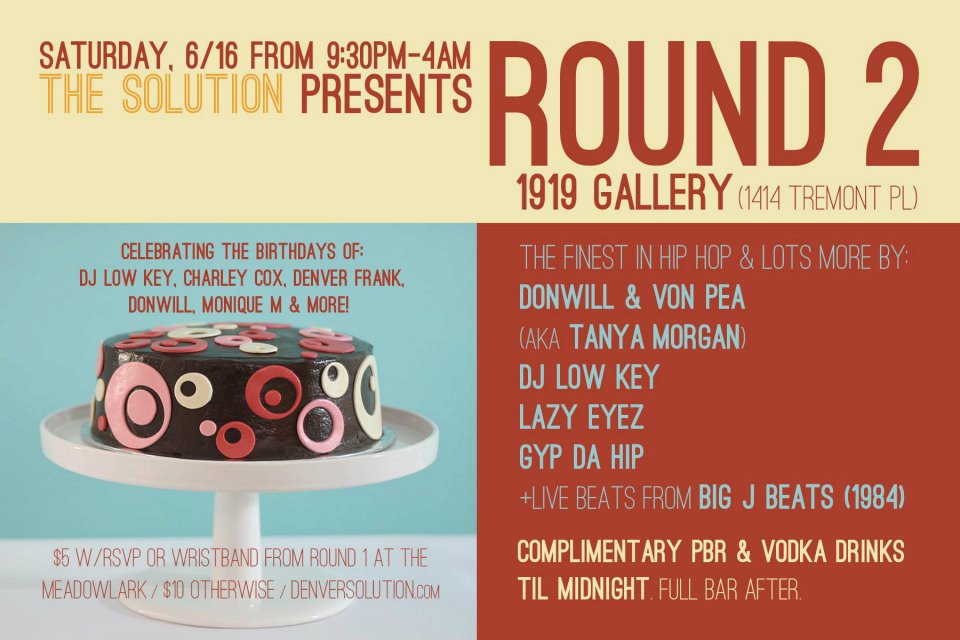 SATURDAY, 6/16 from 9:30pm-4am -> The birthday madness continues on after Goodness at the Meadowlark with Round 2 at 1919 Gallery (1414 Tremont).  We've got music by Donwill & Von Pea of Tanya Morgan (NY), DJ Low Key, Lazy Eyez, Gyp Da Hip & a live production set from Big J Beats (of 1984) to celebrate the birthdays of Charley Cox, Denver Frank, Monique M, Donwill & DJ Low Key, plus complimentary PBRs & vodka drinks til 12 (full cash bar after). $5 w/wristband from the Meadowlark or RSVP / $10 otherwise.
Also, Saturday, 6/16 from 3pm-9pm -> Birthday madness Round 1 at Goodness on the Meadowlark's patio (2701 Larimer St). Special performance from Tanya Morgan (NY), music by DJ Low Key, Sounds Supreme, Lazy Eyez & DJ Amen, Summertime fashion show by Family Affair, tacos by El Chingon and celebrating the birthdays of DJ Amen, Charley Cox, Denver Frank, Monique M, DJ Chonz, Donwill & The Solution's own DJ Low Key. No Cover/21+.
Leave a comment
Join The Solution newsletter for details on upcoming events, free music, party photos, video & lots more!!!
Add us on Facebook…
Get more familiar with The Solution w/DJ Low Key & Lazy Eyez…
Every Friday Night: The Solution w/DJ Low Key, Lazy Eyez & friends at The Meadowlark…

All the best in hip hop & a whole lot more, every Friday night at The Meadowlark.
Party photos by IG: @Armando_Geneyro.
Beautiful heated patio.
No cover until 10pm / Only $5 after.
Facebook.Twitter.Instagram.
9pm / 21+ / 2701 Larimer St.
DJ Low Key & Sounds Supreme – The Solution Tape #1 (hosted by U-N-I & Ro Blvd)
Featuring exclusives and world premiers from Von Pea, Ilyas and Donwill of Tanya Morgan, Exile, DJ Day, Che Grand, Kooley High, Median, Donnis, Ro Blvd, Mike Baker, 1 O.A.K., Whygee, Kid Hum, 8thW1, Adad, Buff1, Waajeed, Moe Green & more. Get your copy at the Solution or download it for free by clicking the cover above.
Categories