Normally we feature a Colorado producer at The Solution Showcase, but this month we're making an exception to feature the surprise winner of  last month's Solution Beat Battle, Albuquerque 's own BK Beats.  BK beat out an insanely talented group of producers to take the title and we're excited to feature him on Saturday, 4/28 on at The Solution Showcase #5, along with Median (NC///Foreign Exchange Music///JAMLA Records), Whygee w/DJ Brik-Abrak, DJ Low Key, Lazy Eyez & more at the Meadowlark (2701 Larimer St).  Stay tuned to @DenverSolution for more info, a chance to win free tickets & more.  21+ /// $5 Pre-sales available at Family Affair downtown (plus get 15% your entire purchase when you buy a Solution Showcase ticket) /// $8 at the door.
To find out more about BK Beats, check out this recent interview he did with DJ Low Key below, as well as some links to music and footage from the battle itself.
DJ Low Key: I've gotta get it out of the way, what does the BK in BK Beats stand for?
BK Beats: Haha, shit. "Blunt Kid". It was a nickname I got as a teenager that stuck unfortunately.
DJ Low Key: Sounds like you've had that name for a while, how long have you been producing/making beats for?
BK Beats: Haha, yeah man. Been making beats more seriously for the last 2 years, dabbling for probably another 2 before that.
DJ Low Key: What initially inspired you to get in to making beats?
BK Beats: I always did music since a kid, but basically getting more educated on hip hop.  "Award Tour" was big for me, as was Nas "The Message".  Once I figured out that those were old records re-chopped, I was more curious and bought [the popular production software] Fruity Loops in high school.  Sadly, Dilla's passing also inspired me a lot.  Ruff Draft and stuff like that really made me wanna do it.
DJ Low Key: Speaking of Detroit, you've done songs with Ro Spit and Fat Ray, two up and coming Detroit artists, as well other noteworthy artists from across the country, such as Add-2 in Chicago and Moe Green and Squadda B (of Main Attrakionz) in the Bay; how do these collabs usually come together?
BK Beats: With the Detroit cats, I was just a fan of the whole scene. Sort of just reached out over Twitter and eventually got cats emails.  Basically Twitter all around man, it makes artists accessible enough I guess.  I'm a fan of cats and I may hit them over Twitter and ask for their email address and go from there.
DJ Low Key: What about your music do you think got the attention of those artists when numerous up and coming producers are hitting them up online regularly?
BK Beats: I try to make every beat my own, and really put myself into the music.  Whatever style it is, I try to do something different or sample something no one would.  For example, sending a beat using a european progressive rock sample when everyone else has been sending Lex Luger style keyboard jams.  No hate to Lex. I'm a fan, haha.
DJ Low Key: Using a variety of samples and sounds is something that the judges at The Solution Beat Battle all mentioned as part of why you won, do you consider yourself as having a particular style?
BK Beats: Ummmm, I would say drums are always an important part of my beats.  Nowadays, I'm leaning away from sampling a bit, but I've been told my drums are sort of a trademark.
DJ Low Key: The Solution is based out of Colorado and you're in Alburquerque, New Mexico; how'd you find out about the beat battle?
BK Beats: A friend/fellow producer really looked out for me on that one. A Chicago cat by the name of ImTrumaine told me Boonie [Mayfield] had been tweeting about it and I should try, so I sent a few [beat] over while I was at work like right before the deadline, haha.
DJ Low Key: Were you worried or nervous about coming from out of state to compete?
BK Beats: Definitely! NERVOUS AS HELL! Haha. But more so felt lucky and blessed becuase my city doesn't have alot of the same opportunities and such.  I was still nervous after I won, like shaking nervous man smh.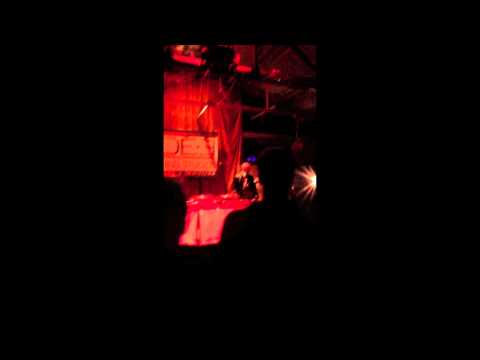 DJ Low Key: Leading up the final round, was there any producer at the battle you were especially worried about facing head to head?
BK Beats: Man everybody had heat to be honest! Â Shouts to Cliff Cage, Big J, Dealz…A lotta skills in that room. Â I forget the [names of the] other cats I met, but I was feeling like just a fan again for sure. Â I thought Big J had me that last round to be honest.
DJ Low Key: The entire lineup was ridiculous, big ups to everyone involved. Before the battle you mentioned you were a fan of Tanya Morgan, who performed and were two of the judges at the battle; any thoughts of hitting them up on Twitter afterwards?
BK Beats: HUGE fan! I had to get my nerd on and snap a flick with them too, haha. But as far as trying to work, I feel like I'm not on that level yet.  Plus, Von's [Von Pea, producer/MC in the group Tanya Morgan] got BEATS! WOO!!! I felt like it may be better if I just took their judging as a cosign and kept it moving.
DJ Low Key: Part of your prize for winning The Solution Beat Battle was studio time at Side 3 Studios, generally considered to be the best in Colorado; what was your session like there and when can we hear the results?
BK Beats: Maaaan it was amazing! Huge shout outs to Chase [at Side 3]. He got EXACTLY what I was trying to convey. Â That whole spot is mind blowing. I will be playing two of the songs next Saturday [4/28, at The Solution Showcase #5, details here] and then releasing an EP with my keys/guitar player Pablo before Summer.
DJ Low Key: What's the name of the EP? Any other projects can we expect from you later in 2012?
BK Beats: Untitled so far but i just released the 1st single "STR8 Gorgeous" last week on my bandcamp page, www.bkbeats.bandcamp.com. Â I will have this ep, songs with a few cats from the bay area. expect more from me and Moe Green, Shady Blaze, Deniro Farrar out of NC and Epp from Portland, all leading up to a solo beat tape.
DJ Low Key: Sounds like a busy Summer. Â Any other shouts before we see you back in Denver for The Solution Showcase #5 on Saturday, 4/28?
BK Beats: Yeah, crazy hectic. Â SHOUTS to you! The Solution, Family Affair, Tanya Morgan, Courtland, Boonie. Everybody who showed love after the show, you guys keep me going for real!