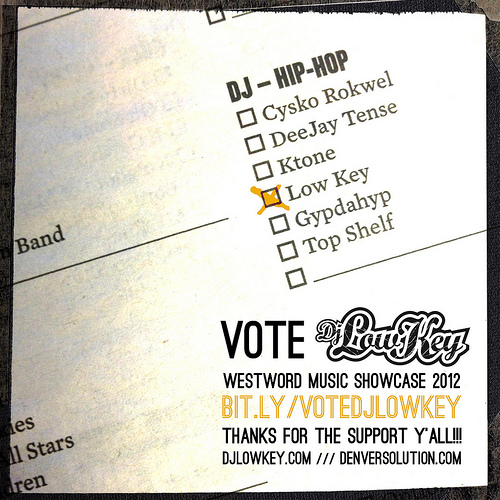 .:VOTE DJ LOW KEY FOR BEST HIP HOP DJ:.
The Solution's own DJ Low Key is nominated for "best hip hop DJ" in the 2012 Westword Music Showcase (he's won a few times already, but we're overdue to add another award to our collection so make sure you go vote).  Please take a quick minute to vote for him, a vote for Low Key is a vote for The Solution.  More about it, in his own words from from djlowkey.com:
It's Westword Music Showcase time and I'm nominated again (shouts to the nominating committee, I appreciate the recognition & Westword, Denver's premier music/arts/entertainment magazine)!!!  It's an honor in itself to be nominated, but everyone wants to win.  With that said, please do me a favor and head over to the Westword Music Showcase site, find the "DJ – Hip Hop" category towards the bottom (category #38) and vote for your boy.  Thanks again y'all, I appreciate the support.  Last but not least, props to all the dope DJs around town, both those nominated and not.