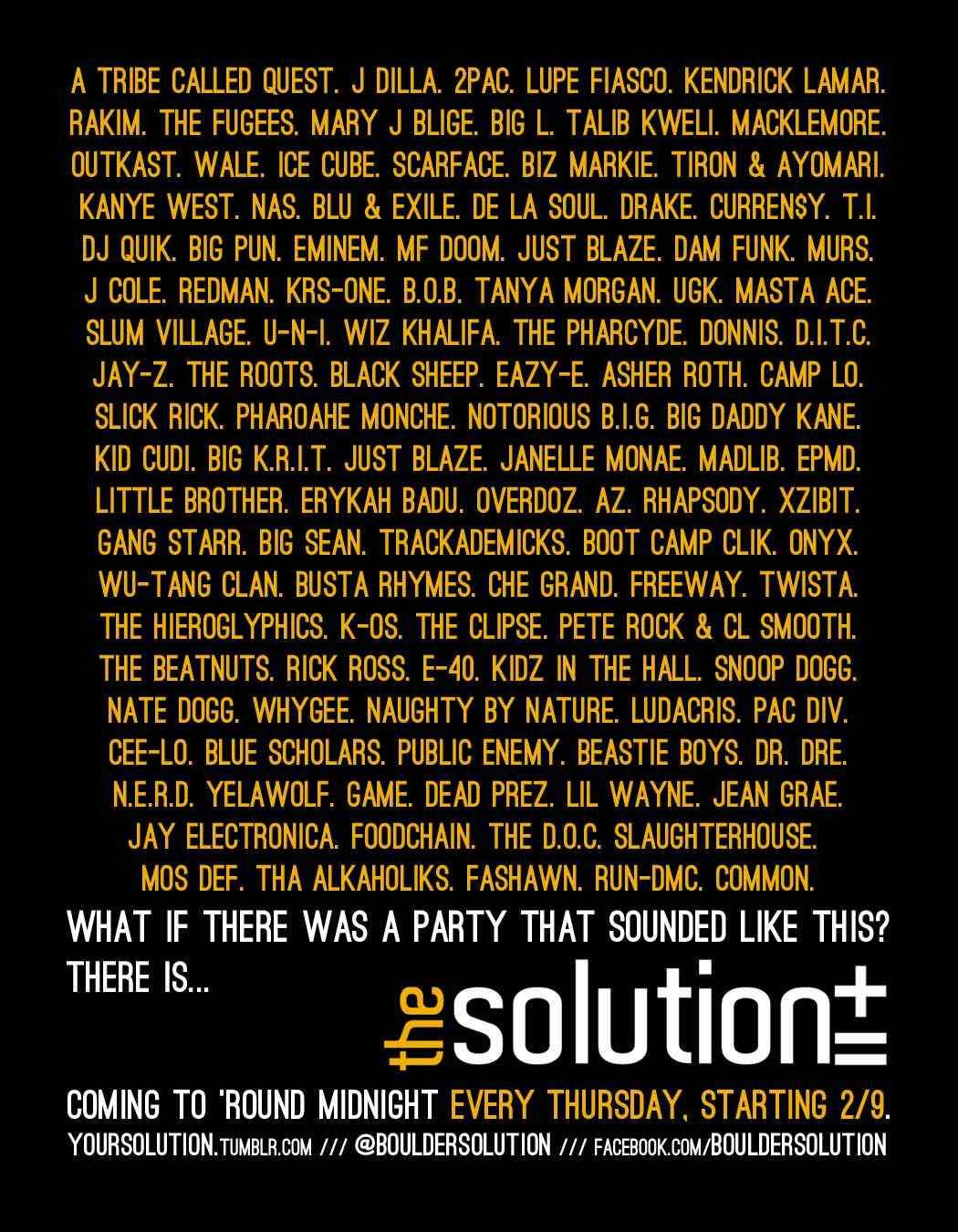 EVERY THURSDAY -> The Solution Boulder has officially hit 'Round Midnight (1005 Pearl St).  Every Thursday night you can catch DJ Low Key, Sounds Supreme and some of #COHipHop's top DJs spinning the best in hip hop and more.  We're teaming up with Installation (easily one of the best shoe stores in the state, if not country), Red Bull and some other friends of our to get things off to a proper start.  Check out what we've got lined up for the next few weeks at The Solution Boulder:
2/23 -> Special guests Tanya Morgan (Brooklyn) + Turner Jackson Star Destroyer Listening Party from 9:30-10:30pm.
3/1 -> The Solution's Chicken & Waffles (all west coast music, all night, complimentary chicken & waffles til 11 and gin & juice specials).
3/8 -> Ladies Shoe & Fashion Show with Installation.  More details coming soon.
21+ /// No Cover /// Music at 10.
Leave a comment
Join The Solution newsletter for details on upcoming events, free music, party photos, video & lots more!!!
Add us on Facebook…
Get more familiar with The Solution w/DJ Low Key & Lazy Eyez…
Every Friday Night: The Solution w/DJ Low Key, Lazy Eyez & friends at The Meadowlark…

All the best in hip hop & a whole lot more, every Friday night at The Meadowlark.
Party photos by IG: @Armando_Geneyro.
Beautiful heated patio.
No cover until 10pm / Only $5 after.
Facebook.Twitter.Instagram.
9pm / 21+ / 2701 Larimer St.
DJ Low Key & Sounds Supreme – The Solution Tape #1 (hosted by U-N-I & Ro Blvd)
Featuring exclusives and world premiers from Von Pea, Ilyas and Donwill of Tanya Morgan, Exile, DJ Day, Che Grand, Kooley High, Median, Donnis, Ro Blvd, Mike Baker, 1 O.A.K., Whygee, Kid Hum, 8thW1, Adad, Buff1, Waajeed, Moe Green & more. Get your copy at the Solution or download it for free by clicking the cover above.
Categories