Archive for November, 2011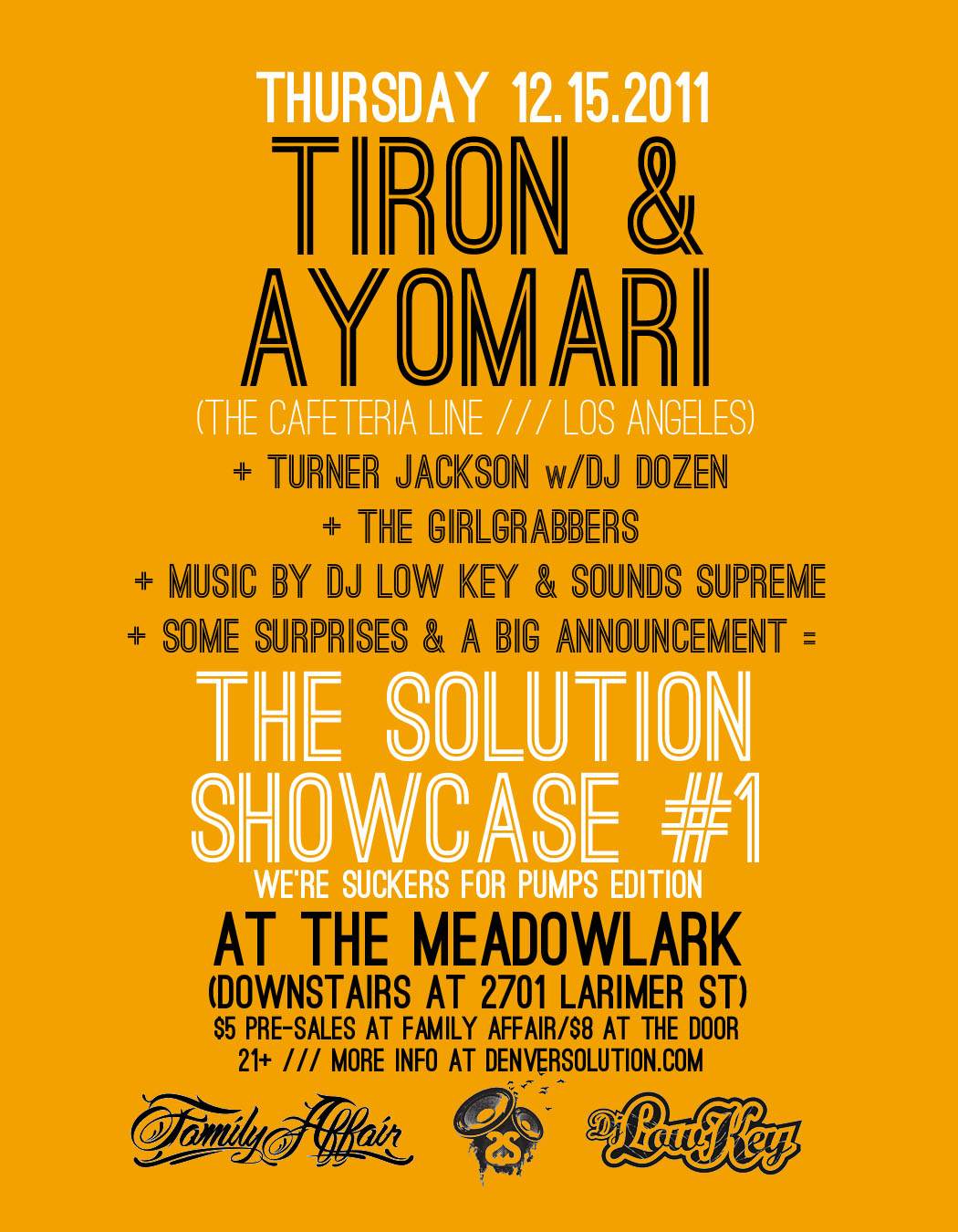 THURSDAY, 12/15 -> I'm super excited to announce the launch of The Solution Showcase, a new monthly party/show/event/whatever-you-wanna-call-it that we're throwing at the Meadowlark (2701 Larimer St).  In the same way that me and Sounds Supreme started The Solution to be the kind of party we'd wanna go to, The Solution Showcase is gonna combine the vibe of The Solution with a live show element; showcasing an up and coming out of town act, a dope Denver artist and a Denver-based producer or production crew each month, plus assorted other goodness.
To get things started right, we're bringing out critically acclaimed and super dope Los Angeles-based rappers TiRon and Ayomari, whose recently released album, A Sucker For Pumps (available to stream free here), is one of the best projects I've heard all year (up there with Section .80, Watch The Throne, Charity Starts At Home, To Live For, To Die For & such).  And I'm not alone, Dream Hampton, co-author of Jay-Z's book Decoded called it a classic and her favorite album of the year, hugely popular blog the Smoking Section gave it 4 1/2 of 5 stars and the album has landed them on numerous bills in LA alongside Dr. Dre's favorite new rapper, Kendrick Lamar.  You may have also gotten familiar with TiRon and Ayomari via T&A:The Prelude to ASFP (the mixtape I did for them earlier this year, download it here), Ketchup (my other mixtape collab with TiRon and 2Dopeboyz's favorite mixtape of 2009, download it here), MSTRD, the PB & J Solution or collabs with the likes of Blu, Pac Div, Miguel, Asher Roth, Oddisee and so on.
TiRon and Ayomari will be joined by Denver's own Turner Jackson, whose last album, My Heart Needs Space (available for free download here), is one of the best local projects I heard all year and showed ridiculous growth from the young MC.  His frequent collaborator and youngest DJ in charge, DJ Dozen, will hold him down on the turntables for the night.  The Girlgrabbers (aka Q-Knox, GypDaHip & Brik-A-Brak) will be showcasing their one of a kind musical magic as our featured producers for the night (check out some of their prolific catalogue here).  In classic Solution fashion, me & Sounds Supreme will round out the lineup as the night's DJs, rocking all the best in hip hop and more.  We'll be posting music and videos from everybody on the bill to get y'all familiar over the next month or so, so don't worry if you're not up on the whole lineup, just trust that the DJs you like aren't gonna steer you wrong (a big part of this night is gonna be about discovering great new music and we think you're gonna love it).  Also, we've got a few surprises to announce that'll make the night even better, so stay tuned to @DenverSolution for those last few details and a chance to win free tickets.  21+ /// $5 Pre-sales available at Family Affair downtown after Thanksgiving /// $8 at the door. – DJ Low Key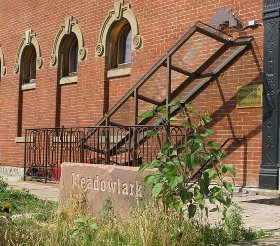 P.S. The Meadowlark is a pretty small venue and this show could very well sell out, so don't sleep!!!!!
P.P.S. This is just the start of a bunch of big Solution news…We're about to make up for lost time in a major way, watch!!!