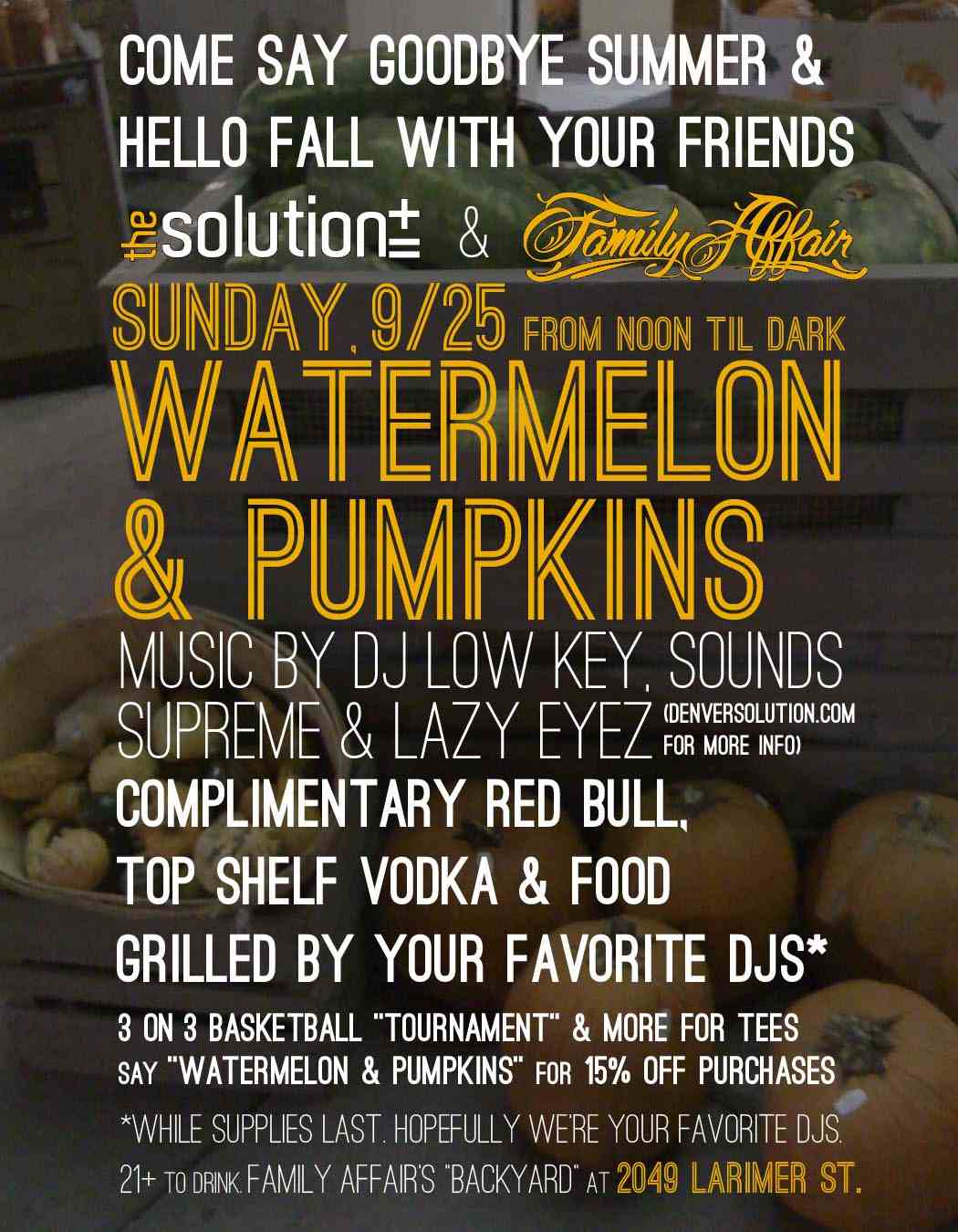 Sunday 9/25 from noon til dark -> Come say goodbye summer and hello fall with your pals the Solution & Family Affair with Pumpkins and Watermelons.  All three Solution members, DJ Low Key, Sounds Supreme & Lazy Eyez, will be on the turntables rocking in Family Affair's "backyard", we've got complimentary Red Bull, Top Shelf Vodka, food grilled by your favorite DJs, a 3 on 3 basketball "tournament"  plus assortment other contests for tees & more.  The forecast is 84 degrees with 0% chance of rain, so think of this as that one last blowout Summer BBQ you had hoped for.  Plus, if you wanna cop some new gear while you're at the spot, just say "Watermelon & Pumpkins" at the register for 15% off!!!  Noon til dark /// 2049 Larimer St /// 21+ to drink.
P.S. Afterparty at Connected w/DJ Low Key at the Hai Bar…Best Sunday ever!!!
Leave a comment
Join The Solution newsletter for details on upcoming events, free music, party photos, video & lots more!!!
The Solution x Spotify Weekly Playlists…
Add us on Facebook…
Every Friday Night: The Solution w/DJ Low Key, Lazy Eyez & friends at The Black Box…

All the best in hip hop, R&B and lots more, every Friday night at The Black Box.
Party photos by IG: @Armando_Geneyro.
No cover until 10pm / Only $5 after.
Facebook.Twitter.Instagram.
9pm / 21+ / 314 E 13th Ave.
Get more familiar with The Solution w/DJ Low Key & Lazy Eyez…
Categories