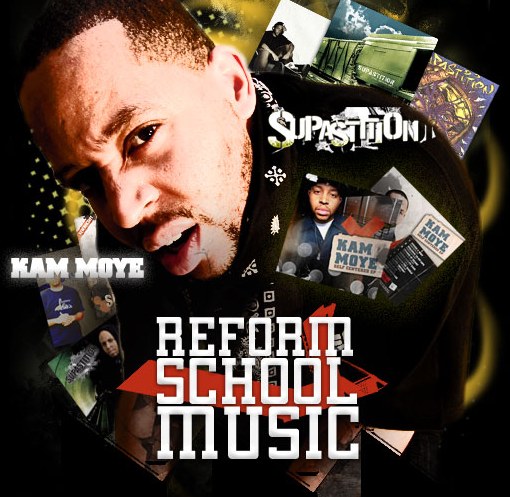 Me and the homie DJ Forge have been talking about him and criminally underrated rapper Kam Moye coming out to rock at the Solution for while now (Forge is Kam's tour DJ).  The other day, I mentioned the idea to Forge on AIM and he said that might be hard to make happen and sent me a link to this sad post from Supastition.com, check it out…
For those who have been asking for updates on myself and my album. Kam Moye is longer an artist on MYX Music Label. As of a few months ago, MYX Music is no longer in business from my understanding. At this point my album is kind of lost in the shuffle and I am hoping to get things resolved as far as rights to the music go. The mother company ABS-CBN took some serious losses in the past year so they cut off finances for it's smaller subsidiaries including the label. It was beyond my control and nothing could have prevented it. More than a few artists lost their deals. I've dealt with a similar situation before when Chain Letters in 2005 was released and two or three months later the distribution company shut down without warning. That's just the way the ball bounces. Hopefully things will work out for all parties. I wish Karim Panni (label manager of MYX) all the best in his new endeavors. There will be no more singles or videos off of the album. Thanks to those who supported the album. I am grateful for the opportunity regardless.

At this time, I have no plans on recording another professional solo album as Kam Moye or Supastition. This decision isn't based on my recent situation with MYX Music but based on the state of the music industry and where it's going. It wasn't an easy decision for me but I felt that it was the best choice. I've sacrificed a lot of money and time and it's just not worth it to continue with it the way I have done in the past. All isn't bad news though… I have enough unreleased songs saved in the stash at this point to compile a few more albums. With that being said, I'm going to put those songs together and make them available for free download as soon as I can get clearance from the producers and guest artists involved. There is no release date and there won't be one. There will be no labels or promo involved. Whenever I can get the okay from everyone involved then I'll put up a link on my site, Facebook, etc… It's as simple as that. Not to mention, I have recorded close to 100 guest appearances in my career so I'm sure they will continue popping up on the internet throughout the years.  There are some other MC/producer projects that I already had in the works with Dela (from France), D.R. (Electric Ave), and Madwreck.  I'm a man of my word so I will make sure that those projects are finished and completed. I've been left hanging way too many times by people that I've worked with in the music industry so I'd never do that to people I respect. I mainly chose to do projects with them based on their talent, loyalty, and just being good people and friends in general. The collaboration project with Dela may be released on CD/iTunes depending on what he decides to do with it but the other two projects will be free releases. Also, I just provided DJ Concept (Bash Brothers) with over 70 songs to release in a Kam Moye/Supastition mixtape series in order to help distribute the remaining songs in my catalog.

Although I'll always write and record music, I have no interest in to pursuing it professionally anymore as an artist. 5 record deals, 3 albums, 3 EP's, 5 videos, 12 countries, and 40+ U.S. cities is more than enough for me to be proud of.  I know some people will wonder why can't I still just make music? The truth is that I have never "just made music" because most of my career I have managed myself (until recently), booked my most of my own shows & tours, found my own record deals, found my own producers, and most recently recorded my own music. That takes a toll on you and your personal life after awhile. Out of all those duties, I spent the least amount of time rapping and recording music. With music being technically free nowadays, that's way too much effort for the results I've seen. Waking up to see a blog giving away your entire discography for free followed by a single sentence saying "support the artist" is a very humbling thing to see when your rent is due. That's not bitterness, it's just today's reality…  I'm at peace with that. I'm going to make sure that the rest of the music in my catalog will reach those fans who have supported me over the years. This isn't some corny retirement speech or "I quit" rant… just me personally giving you an update on what to expect and what not to expect from me. I'm sure people will interpret it any way that they like though. I had originally written a lengthy and personal message breaking down a lot of things but I realized that nothing on the internet is personal anymore. Thanks all of those who have supported and all of you who will continue. I'll update you on things as soon as I can. Hopefully you will enjoy the rest of the music and if not then you have more than enough music from me already. Peace and respect y'all.  -Kam Moye
With that said, me & Forge have been talking about him and Kam rockin at the Solution for a while now and we're still gonna try to make it happen sometime this Summer.  In the meantime, I'd recommend copping whatever Kam Moye/Supastition music you can and show your gratitude to one of the most slept on rappers of the last decade.
Leave a comment
Join The Solution newsletter for details on upcoming events, free music, party photos, video & lots more!!!
The Solution x Spotify Weekly Playlists…
Add us on Facebook…
Every Friday Night: The Solution w/DJ Low Key, Lazy Eyez & friends at The Black Box…

All the best in hip hop, R&B and lots more, every Friday night at The Black Box.
Party photos by IG: @Armando_Geneyro.
No cover until 10pm / Only $5 after.
Facebook.Twitter.Instagram.
9pm / 21+ / 314 E 13th Ave.
Get more familiar with The Solution w/DJ Low Key & Lazy Eyez…
Categories