Last year, we were lucky enough to have insanely talented producers/DJs/MPC masters Exile & DJ Day come out to the Solution to rock their world renowned 2 MPC/2 turntable set, courtesy of the Red Bull Music Academy.  Needless to say, they didn't disappoint.  Me and Sounds had the pleasure of setting off the party, full of cute girls and heads, so much so that DJ Day said he'd "never played at a party quite like this".  Then Day & Ex rocked a mind-blowing set that had the crowd screaming, dancing and wondering how the hell anyone could make an MPC act like that.  It's kind of hard to explain their brilliance in words, you really need to check out the video clips throughout this post to really get an idea of these guys' genius.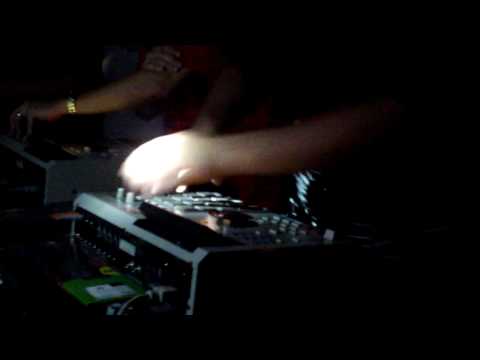 Plus, MJ had just passed a few days earlier and they created and premiered an incredible tribute to the King Of Pop that we were the first to witness, check it below (shouts to Ralphie on the video). And if that wasn't enough, Donwill & Von Pea of Tanya Morgan and Che Grand were in town for my birthday party the next night and hopped on the mic for a surprise performance.  Check out clip of Che rockin over live Ex & DJ Day's live production at the Solution below (and stay tuned for the full Che/Don/Von audio on the upcoming Solution Tape #1).  Over six hundred people came through the door that night and I imagine each and every one of them who saw Ex & Day had their mind blown.  If you end up so lucky as to ever get a chance to see these guys perform live, don't miss it.
Above: Exile MPC solo at the Solution /// Below (starting with the top row):Â  DJ Dozen, Donwill, Che Grand, DJ Low Key, J Kim, MG, Sounds Supreme, DJ Tense, Exile, Von Pea & DJ Day.
BONUS: Exile & DJ Day perform their D Train routine at a Red Bull Music Academy workshop w/DJ Low Key at Side 3 Studios. Shouts to DJ Squirt on the clip, stay tuned for more clips from the workshop coming soon.
EXTRA BONUS: Exile & DJ Day rehearsing their MJ tribute at the hotel before premiering it at the Solution.